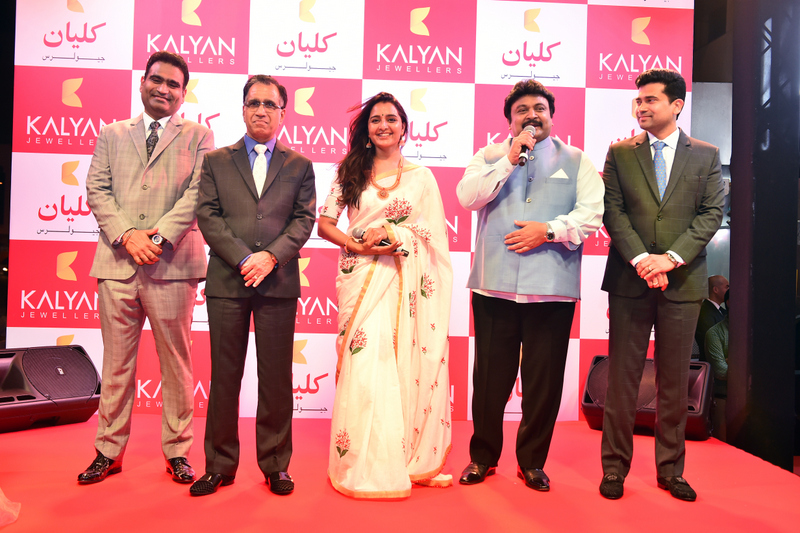 UAE, September 20th, 2019: Scores of delighted fans came forward to witness the launch of Kalyan Jewellers' 140th & 141st showroom in Abu Dhabi & Sharjah today. Kalyan Jewellers brand ambassadors and much-loved cine stars Prabhu Ganesan & Manju Warrier inaugurated the outlets, giving both Safari mall in Sharjah and the industrial hub of Mussafah in Abu Dhabi a new and opulent jewellery shopping destination.
Mr T.S. Kalyanaraman, Chairman and Managing Director, Kalyan Jewellers, Mr Rajesh Kalyanaraman and Mr Ramesh Kalyanaraman Executive Directors, Kalyan Jewellers were also present at the inauguration of the new showrooms. Prabhu Ganesan and Manju Warier, who had come exclusively for the inauguration enthralled the massive crowds gathered outside. Waving at people, Prabhu said, "I have been associated with Kalyan Jewellers since their third showroom, and this is their 141st. Guessing this statistic says it all. It is always a pleasure to be a part of these Kalyan launches because I get to meet all of you. I am confident that the brand will continue to receive phenomenal response from you, just like it has in the past."
After addressing the gathering, the brand ambassador cut the ceremonial ribbon at the foyer before taking a tour of the showroom.
Kalyan Jewellers will offer its patrons, Muhurat, the bridal jewellery line curated from across India along with exclusive sections featuring Kalyan's popular house brands such as Tejasvi – Polki jewellery, Mudhra – handcrafted antique jewellery, Nimah – temple Jewellery, Glo – dancing diamonds, Ziah – Solitaire like diamond jewellery, Anokhi – uncut diamonds, Apoorva – diamonds for special occasions, Antara – wedding Diamonds, Hera – daily wear diamonds and Rang – precious stones jewellery. Kalyan will draw from its portfolio of over one lakh contemporary and traditional designs and will offer selections for every day as well as bridal wear and festive occasions.