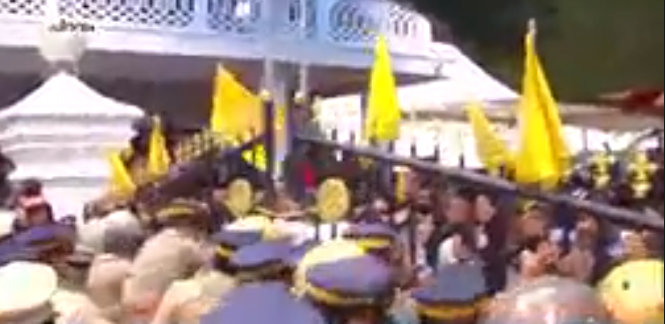 Piravom: The Syrian Church of St. Mary's Jacobites Church, Piravom took over the Ernakulam Collector. The Jacobites who had been protesting for hours arrested. Police arrested the protesters after unlocking the main gate. Following dramatic developments in the area where heavy tensions have been looming since Thursday morning. The police force accompanied the believers to impose the Supreme Court order. With this, the tension in the Church for two days has come to a halt.
The Orthodox sector entered the Church on Wednesday after a Supreme Court ruling. However, the Orthodox sect announced that it would not leave the Church and that the Jacobite sect would not return. The police then withdrew by Wednesday night, banning 67 people from entering the Church for two months.
The High Court on Thursday considered the petition filed by the Orthodox plea demanding Supreme Court's verdict to be in action. About two thousand family members were present at the time.
The Jacobite faction said that they could not leave the mosque despite a court order. The bishops insisted that they would not be separated and that if necessary, the arrest would be over. The forcible removal of protesting priests and church leaders has angered the believers.
The bishops have said that the police and the district administration must comply with the court directive. The proceedings that began at 1 pm ended in 50 minutes and the police shut down the church, release all the Jacobite believers.
"We will report to the court on Friday at 10:15 am and will discuss the matter with legal experts," said the Collector. "The orthodox community will be provided with a place of worship and security on the direction of the court," he said.