The new Vande Bharat Express, which is saffron-coloured, is not working yet. It is currently at the Integral Coach Factory (ICF) in Chennai, which belongs to the Indian Railways and will start to run from August 31st.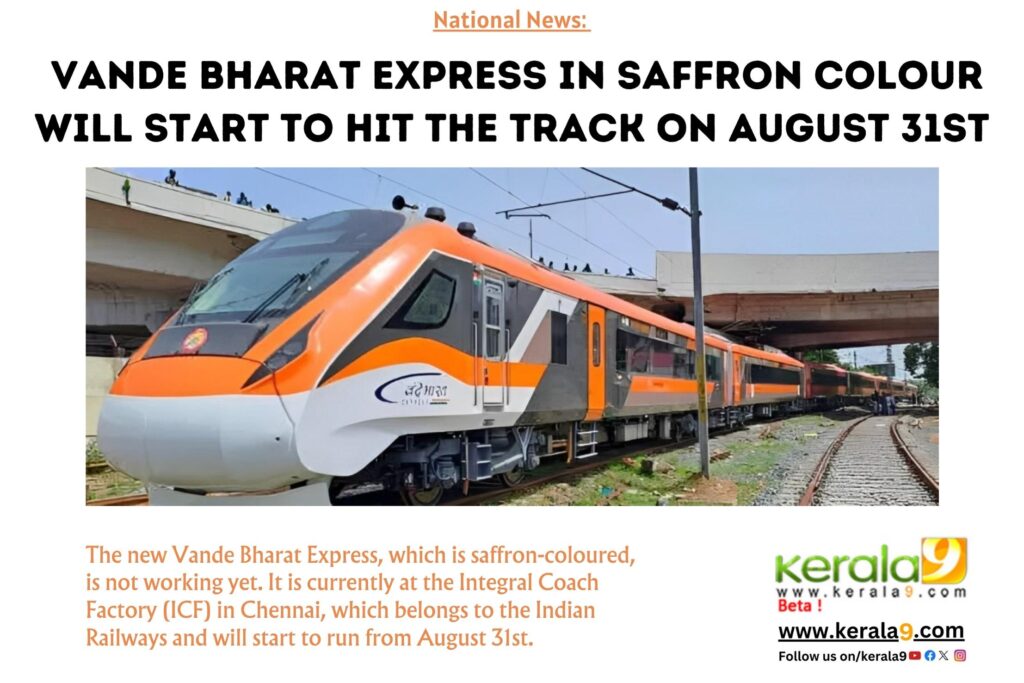 Attention all train enthusiasts! Get ready to witness a revolutionary change in the Indian railway system. The Vande Bharat trains are about to receive a stunning makeover that will leave you in awe. According to reports, the new trains will flaunt a vibrant orange exterior that is sure to catch your eye.
But that's not all! The new Vande Bharat trains will also be equipped with a range of innovative safety and technical enhancement features that will take your travel experience to the next level. From state-of-the-art technology to advanced safety measures, these trains have it all. Soon, the Integral Coach Factory in Chennai will unveil these magnificent trains.
Railway Minister Ashwini Vaishnaw during his visit to the Integrated Coach Factory in Chennai told that the newly coloured Vandhe Bharat in saffron colour will be starting to run on tracks from August 31. The Minister inspected the new train and announced that its design is inspired by the tricolour of India. The Vande Bharat Express has been spotted outside the ICF manufacturing unit, marking the first time it has hit the railway tracks. However, the train is not yet operational and is currently stationed at ICF, where Vande Bharat trains are manufactured, according to a report by ANI.
Presently, there are 25 operational Vande Bharat trains traversing the nation, with an additional four scheduled to commence operations this month. The production of the thirty-first train is currently underway, featuring the new colour code.
Additionally, two Vande Bharat trains are in advanced stages of production. The design of the train includes saffron colour and green stripes on both the doors and body, inspired by the Indian national flag. The saffron hue will be prominently displayed in the front area of the driver's cabin, enhancing the overall aesthetic appeal of the train.