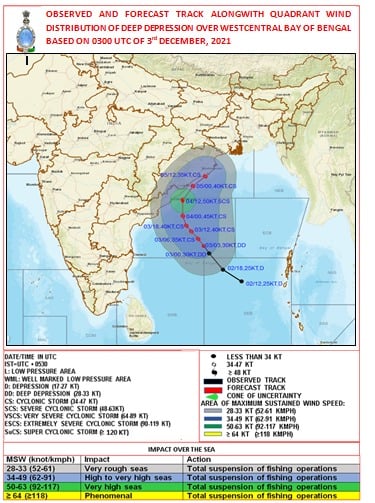 Bhubaneswar: The low-pressure formed in the Bay of Bengal and the Andamans will turn into cyclone Jawad this evening.
The high winds are expected to touch the coast between southern Andhra Pradesh and Odisha by tomorrow morning. Following this, the Indian Meteorological Department (IMD) issued an alert in Andhra Pradesh and Odisha. Andhra Pradesh has been warned of heavy rains before the winds hit the coast. A red alert has been declared along the coast.
Fearing that the cyclone would wreak havoc, measures were taken to evacuate people from the coast. The Disaster Management Force is also on the scene. The East Coast Railway has so far canceled 95 trains due to fears of a cyclone. The trains were canceled for three days.
Prime Minister Narendra Modi assessed the preparations for the rescue operation at a review meeting held yesterday. He directed the officials to take all possible steps to ensure the safe evacuation of the people and to restore the essential services immediately in case of any disruption.

Kerala is considered to be unaffected as Andhra Pradesh and Odisha are the destination of the cyclone. No heavy rain warning has been issued yet on the Kerala coast.