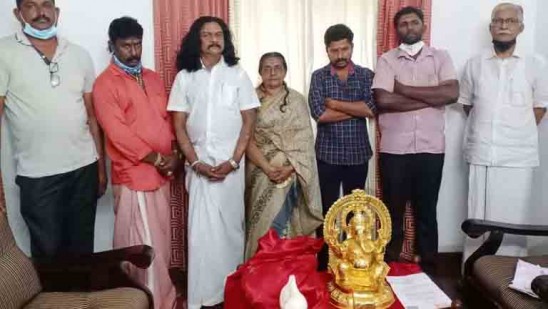 Thrissur: A gang was arrested for trying to sell a fake gold idol claiming to be a centuries-old gold idol of the Travancore royal family.
The Thrissur City Shadow Police and the Paravatti Police arrested a group of seven persons, including a woman, while trying to sell an idol for Rs. 20 crore.
The suspects were nabbed following a tip-off that an idol worth Rs. 20 crore was for sale at a luxury house in Paravatti Padoor. The arrested are Abdul Majeed from Paravatti Padoor, Geetharani from Tirumala, Thiruvananthapuram, Shaji from Pathanamthitta, Unnikrishnan from Kattanam, Alappuzha, Sujith Raj from Elavally, Jiju from Thrissur West Fort and Anil Kumar from Pull, Thrissur.
The accused were approached by the police through intermediaries to buy the idol worth Rs.15 crore for Rs.10 crore. The accused had said that the pure gold idol was stolen from the Kowdiar palace centuries ago. Accused had alleged that there were cases in the court regarding the ownership of the idol and that it was the idol that was released after depositing Rs 2.5 crore in the court.
The accused had several forged certificates, including a forensic lab report with a forged seal of the Regional Forensic Laboratory, a report by the Archaeological Survey of India confirming the age of the statue, etc with them.
Shaji, the third accused in the case, was introduced to the gang as a priest to explain the significance of the idol. He introduced himself as Brahmadathan Namboothiri. The man, who initially used the same name with the police, later admitted during interrogation that his real name was Shaji. The group was traveling in three luxury cars. These vehicles were also seized by the police. A case has been registered against him at Thrissur Town West station for stealing Rs 18 lakh and gold. There are several fraud cases against another accused Geetharani at various stations in Kerala.