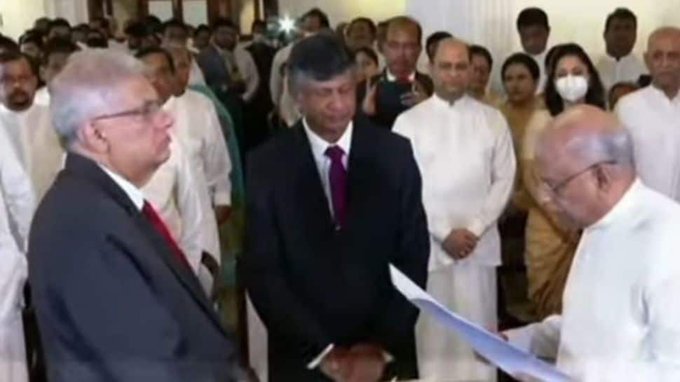 Colombo: Dinesh Gunawardena took office as the Prime Minister of Srilanka. He was sworn in as Prime Minister before President Ranil Wickremesinghe. Dinesh Gunawardena became the Prime Minister of Sri Lanka after the greatest political and economic insecurity that independent Sri Lanka has seen. He was sworn in as Prime Minister before President Ranil Wickremesinghe.
Dinesh Gunawardena is a former Home Local Minister and Rajapaksa supporter. He has previously served as Minister of External Affairs and Minister of Education. Dinesh Gunawardena asked the protesters to exercise restraint after taking oath of office. Gunawardena requested the cooperation of the people to restore peace and improve economic empowerment in Sri Lanka.
Meanwhile, in Sri Lanka, protesters have begun to be evacuated from government buildings. The army has instructed the protestors to vacate completely by evening. All the protestors inside the President's office were evacuated. The prime minister's office has also been heavily guarded. The action took place immediately after Dinesh Gunawardene took office as the new Prime Minister. Protesters' pickets in front of the secretariat were destroyed. Many people were arrested. President Ranil Wickremesinghe has instructed the army to remain alert till the situation calms down.
The army has already taken control of many government buildings from the protesters. After the inauguration of President Ranil Wickremesinghe, the protesters demanded that the offices of the President and Prime Minister of the country be completely vacated. He warned that staying in government buildings is illegal and legal action will be taken against it. This is followed by military action. It is hoped that the change of power in Sri Lanka will end the political and economic instability.