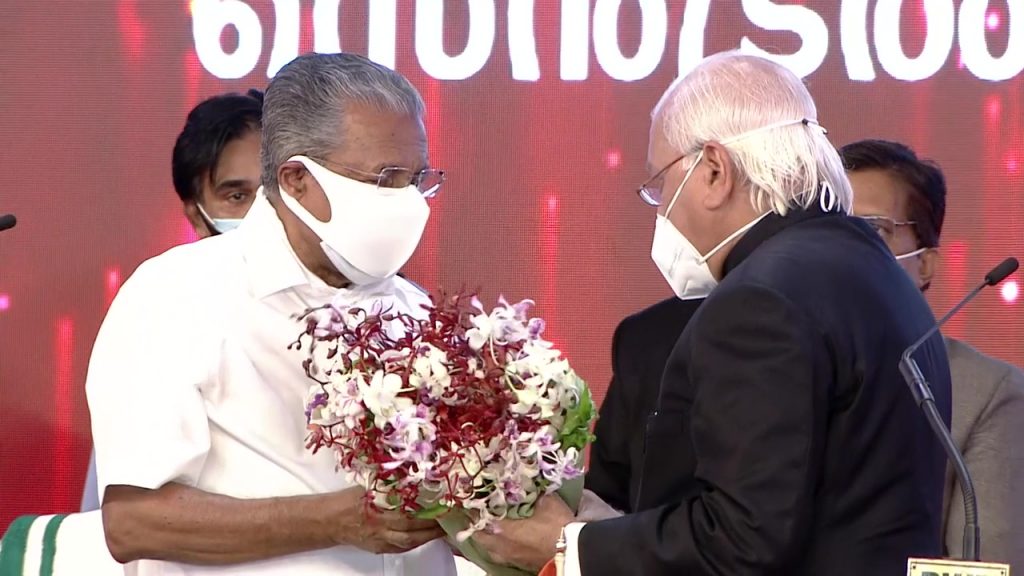 Thiruvananthapuram: The LDF cabinet headed by Pinarayi Vijayan is in power. The swearing-in ceremony began at 3.35 pm. Governor Arif Mohammad Khan administered the oath to the Chief Minister Pinarayi Vijayan. Later ministers K Rajan, Roshi Augustine, K Krishnankutty and AK. Shashindran, Ahmed Devarkovil, Antony Raju V Abdurahman, GR Anil, KN Balagopal, R Bindu, J Chinchurani, MV Govindan, PA Mohammad Riaz, P Prasad, K Radhakrishnan, P Rajeev, Saji Cherian, V Sivankutty, VN Vasavan and Veena George were sworn in.
The historic winners could not attend the swearing-in ceremony following Covid. The people of Kerala watched the historic moment on home televisions and phone screens. 'This epidemic will change. On that day, we will celebrate together. All the clouds of sickness will go away and the sunshine of happiness will shine. Today's inconveniences are the compromises we make for the betterment of those good times. ' Kerala is confident that the words spoken by Chief Minister Pinarayi Vijayan will come true.
Prior to the swearing – in ceremony, a virtual musical performance by 54 famous singers appeared on the screen at Central Stadium. K.J. Yesudas, A.R. Rahman, Hariharan, P. Jayachandran, K.S. Chithra, Sujatha, MG Sreekumar, Shankar Mahadevan, Amjat Alikhan, Umayalpuram Sivaraman, Sivamani, Mohanlal, Jayaram, Karunamoorthy, Stephen Devasya, Unni Menon, Sreenivas, Unnikrishnan, Vijay Yesudas, Madhubala Krishnan, Swetha Mohan, Jayachandran, Sarath, Bijibal, Ramyanambisan, Manjari, Sudeep Kumar, Najim Arshad, Haricharan, Madhushree, Rajasree, Kallara Gopan, Aparna Rajeev, Vaikom Vijayalakshmi, Sithara, Harikrishnan, Ranjini Jose, PK Medini and Murugan Kattakada are the music directors of the film. Mammootty made the presentation.
EMS- The music album was a proclamation of how governments led by Pinarayi Vijayan have changed and nurtured Kerala. This is the first music album in Malayalam with so many singers and musicians participating. Director T.K. Rajeev Kumar is the ideologue. Music was composed by Ramesh Narayanan. Apart from the late poets, the lines of Prabha Verma and Rafeeq Ahmed were also used.
CPI (M) general secretary Sitaram Yatchury, Kodiyeri Balakrishnan, Prakash Karat, A Vijayaraghavan, EP Jayarajan, Thomas Isaac, MM Mani, KK Shailaja, Kadakampally Surendran, CPI state secretary Kanam Rajendran, leaders Pannyan Raveendran, E Chandrasekharan, Gururatnam Jnanathapasvi, Prominent personalities from the political, social and cultural spheres including Vellapally Nation and others participated.