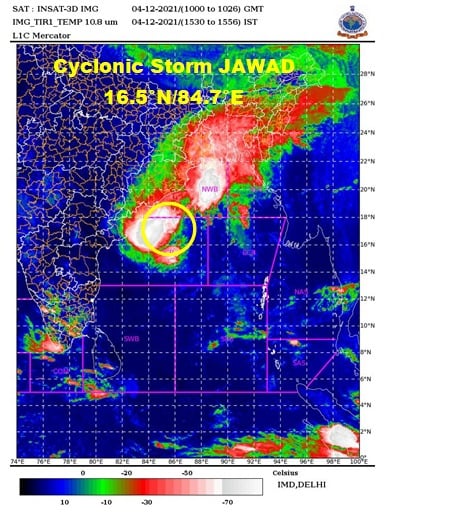 Thiruvananthapuram: The Met Office has issued yellow alerts in seven districts of the state for the effects of Cyclone Jawad in the Bay of Bengal. The yellow alert was issued in Kollam, Pathanamthitta, Kottayam, Ernakulam, Idukki, Palakkad, and Malappuram districts. Isolated showers are expected for the next three days, according to the Meteorological Department.
Meanwhile, Cyclone Jawad is reported to be close to the Andhra-Odisha coast. It is expected to head north-west and land at Puri in Odisha tomorrow afternoon. Heavy rains are expected along the northern coast of Andhra Pradesh in the coming hours. Authorities said Jawad was weak but could touch the ground with extremely low pressure, but caution was needed. Many families have been evacuated from landslide-prone areas along the Andhra-Odisha coast following heavy rains.
A red alert has been declared in four districts of Andhra Pradesh. Warnings have also been issued off the coast of West Bengal. 64 teams of the National Disaster Response Force have been deployed in Andhra Pradesh and Odisha. A state of emergency has been declared in the Puri district of Odisha. East Coast Railway cancels 122 trains.