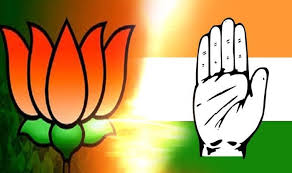 Mumbai: BJP gives a huge setback ahead of Maharashtra Assembly polls. Reports say that six MLAs from the Congress will join the BJP. Sakri MLA DS Ahire, Shirpur MLA Kashiram Pawara, Malad MLA Aslam Sheikh, Chikali MLA Rahul Bondre, Pantherpur MLA Bharat Bhalke and Akkalkot MLA Siddaram Mehtre are all set to leave the Congress.
Reports say that these leaders have informed the BJP leadership of their desire to join the BJP. In the presence of Chief Minister Devendra Fadnavis and BJP state president Chandrakant Patil, Congress MLAs may accept the BJP membership.
There are also reports that BJP may give these leaders a ticket to contest the upcoming assembly elections. Congress leader and actress Urmila Matondkar resigned last night Reports say Urmila may be joining the Shiv Sena. Leaders like Kripashankar Singh, a former Maharashtra minister, also left the Congress recently.
The Congress is contesting in Maharashtra with the NCP. The two parties have agreed on 125 seats each. The allies will contest all 38 seats. The BJP-Shiv Sena alliance is expected to be swept away this year as well. Maharashtra Assembly Elections will be held on October 21. Count on the 24th.