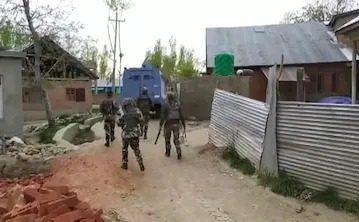 Srinagar: Security forces killed five militants in two separate clashes in Shopian, Jammu, and Kashmir. Two of them are Lashkar-e-Taiba terrorists and three are members of The Resistant Front (TRF), which has recently shot dead civilians in Kashmir.
Troops seized several weapons and ammunition in their possession. The clash, which started on Monday night, continued late last night. The number of terrorists killed in the anti-terror operation in the last two days has risen to seven. Two two-story buildings were destroyed in the blast.
Three terrorists were killed during an anti-terror operation in the Tulran area of Shopian. The army surrounded the two-story building where the terrorists were hiding and repeatedly asked them to surrender, but they refused. One of those killed was Mukhtar Shah of Gandharbal. Police said the man came to Shopian after killing street vendor Virendra Paswan in Shopian last week.
Hours later, two Lashkar-e-Taiba militants were killed in a clash in the Feripora area of Shopian.
Five soldiers, including Kottarakkara resident Vaishakh, were martyred in a clash with terrorists in the Poonch area on Monday morning. Following this, the army intensified its search for terrorists in various parts of Kashmir.