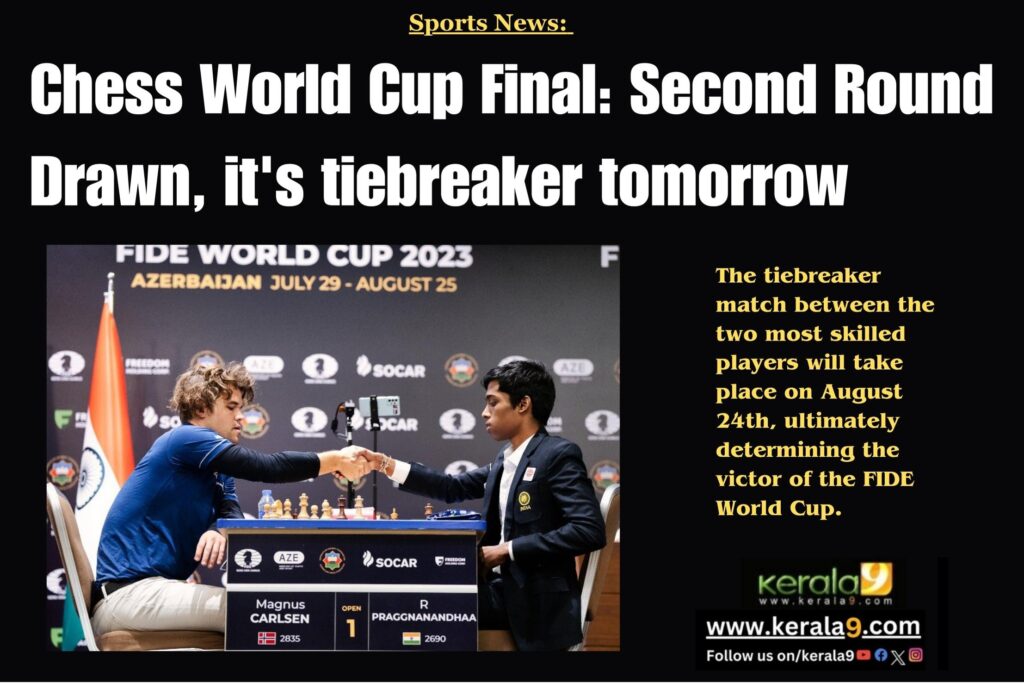 Rameshbabu Praggnanandhaa made the decision to draw the second game of the Chess World Cup Final after a rugged hour of competition against the world's top-ranked player and five-time world champion, Magnus Carlsen, in Baku, Azerbaijan.
The tiebreaker match between the two most skilled players will take place on August 24th, ultimately determining the victor of the FIDE World Cup.
The forthcoming tie-break games, to be played in rapid format, will be subject to a time control of 25 minutes for each player, with an additional increment of 10 seconds per move, commencing from move 1. In the event that these two games do not produce a victor, two further games will be played, with a time control of 5 minutes for each player. These games will be subject to a 3 second increment per move, starting from move 1.
In the social media platform X, the International Chess Federation conveyed that Magnus Carlsen secured a peaceful draw with the white pieces against Praggnanandhaa, thereby advancing the final to tiebreaks. The victory of the #FIDEWorldCup shall be determined on the following day. Magnus Carlsen: "Praggnanandhaa has already played a lot of tiebreaks against very strong players… I know he is very strong. If I have some energy, if I have a good day, obviously I will have good chances."
On the social media platform X, former world champion Anand shared his thoughts during the game. He expressed surprise at the opening and speculated whether Magnus was repeating his game 12 strategy from 2016 in order to aim for a tiebreak. Anand further noted that if this was the case, Magnus had likely spent the day strategizing for the tiebreak, while Prag would only be able to begin considering it after the game.