CHESS WORLD CUP FINAL 2023: INDIA'S PRAGGNANANDHAA LOST THE CLASH TO THE WORLD NO.1 MAGNUS CARLSEN.
The five-time world champion Magnus Carlsen won in the finals of the 2023 FIDE World Cup beating R Praggnanandhaa. Magnus Carlsen has added one more prestigious trophy to his collection in a thrilling tiebreak with R Praggnanandhaa from India.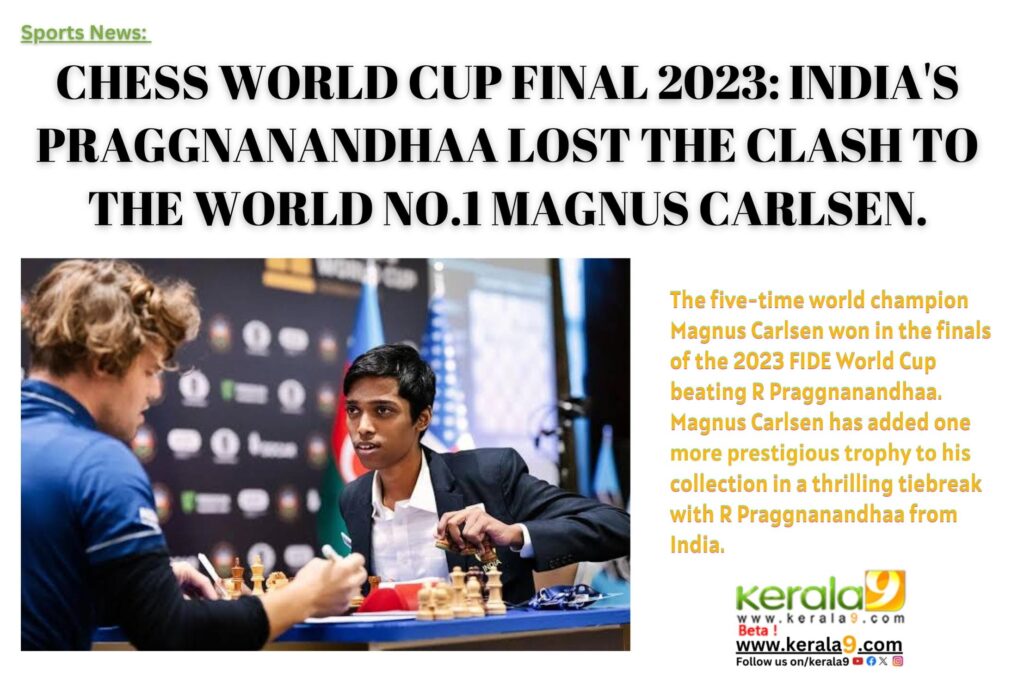 An 18-year-old boy from Chennai became an original child prodigy to challenge the world's top Chess players and lost in the finals. The Young Indian boy R Praggnanandhaa got to the finals beating powerful players such as Hikaru Nakamura and Fabiano Caruana resulting in a Silver medal and also getting a ticket as a candidate for playing next year in FIDE. Leaders like Amid Shah, Kapil Mishra and M.K.stalin have shared their congratulations on X for Pragg's remarkable journey to the final and making the entire Country proud.
The tie-breaker clash ended with Carlsen winning the game at 1.5-0.5 after the classical tournament finished off in a stalemate. Decisively the second 25+ 10 game terminated in a draw just after 22 moves. The two classical tournaments held on Tuesday and Wednesday took place and resulted in draws setting the phase for the gripping tie-breaker. Pragg's outstanding performance in the tournaments secured him a spot in the admiringly prestigious Candidates Tournament in 2024 which is scheduled to take place in Canada.
International Chess Federation posted on X formerly named Twitter "Praggnanandhaa is the runner-up of the 2023 FIDE World Cup!🥈
Congratulations to the 18-year-old Indian prodigy on an impressive tournament! 👏
On his way to the final, Praggnanandhaa beat, among others, world #2 Hikaru Nakamura and #3 Fabiano Caruana! By winning the silver medal, Praggnanandhaa also secured a ticket to the FIDE candidates".
"Fabiano Caruana clinches third place in the 2023 FIDE World Cup and secures a ticket to the FIDECandidates tournament next year, after prevailing against Nijat Abasov in the tiebreaks. Congratulations!", announced the International Chess Federation on X.