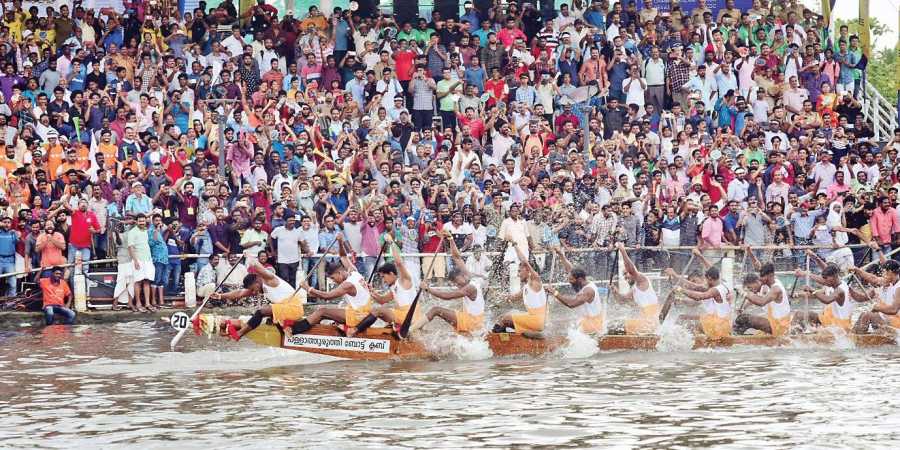 Kollam: The country's fourth-highest sports tournament is poised for a grand finale this weekend when the pioneering Champions Boat League (CBL) will hold its final leg in this city, having revived a stream of Kerala's traditional recreation with a dose of much-needed professionalism.
Being held in five districts along the coast, the three-month championship modelled on IPL cricket has its concluding leg slated for November 23 on the scenic Ashtamudi lake amid the leading team's unassailability. Tropical Titans, with 158 points studded by a triple hat-trick, are a good 80 strides ahead of Raging Rowers (78) and Mighty Oars who share the third rank with Coast Dominators (69 points).
The upcoming match at Kollam will coincide with the President's Trophy Boat Race that has a history tracing from 2011. Besides the nine CBL snake-boats, the event will host races for the smaller canoes amid cultural programmes. Kerala Finance Minister, Dr T M Thomas Isaac will inaugurate the event and Kerala Tourism Minister Mr Kadakampally Surendran will preside.
The 12-round CBL, being organised by Kerala Tourism in Saturdays, has nine teams vying for prize monies totalling Rs 5.9 crore. Any day's topper secures Rs 5 lakh, while the amount is Rs 3 lakh and Rs 1 lakh for the second and third finishers. All participating teams are entitled to Rs 4 lakh per match even as the overall winner of the championships is entitled to Rs 25 lakh, followed by Rs 15 lakh and Rs 10 lakh for the second and third prize winners.
Any evening's winner gets 10 point. The last leg of the CBL at Kallada in this district, where Tropical Titans scored their triple hat-trick, saw a spirited final. A difference of two seconds decided the first and second runners-up on November 16 when Raging Rowers (3:49.95) and Mighty Oars (3:52.00) came next to the victors respectively. These two teams now occupy the second and third spots in the overall tally as well.
"So, there is still great suspense over who ends up as the CBL runner-up," notes a top Kerala Tourism official. "Let's not forget that there is also an extra five points for Nerolac Excel Fastest Team of the Day."
Equally interestingly, the third rank in the tally is currently shared by two teams. "The better performer among them at the Kollam leg will become the second runner-up. So there is competition for that slot as well," adds the official.
So far, Coast Dominators alone have managed to overtake Tropical Titans in a final. That happened in the fifth round at Kochi on October 5, much to the surprise of a cosmopolitan gathering along Marine Drive in downtown Ernakulam. Coast Dominators were runners-up in the November 9 leg at Kayamkulam in Allappuzha district, ahead of Raging Rowers in a photo finish.
The CBL races that began at Punnamada in Alappuzha on August 31 when cricket icon Sachin Tendulkar was the chief guest at the race flagged off by Kerala Chief Minister Pinarayi Vijayan.
The races are typically broadcast live. Star Sports 2, Star Sports 2 HD, Star Sports 1 Tamil, Asianet Worldwide, Asianet Plus, Hotstar, ETV Andhra Pradesh and ETV Telangana will continue to beam the future CBL rounds live for an hour from 4 pm. Tickets can be booked online through 'Book my Show' platform, besides outlets that facilitate spot purchase of tickets. The prices range from Rs 200 to 2,000.