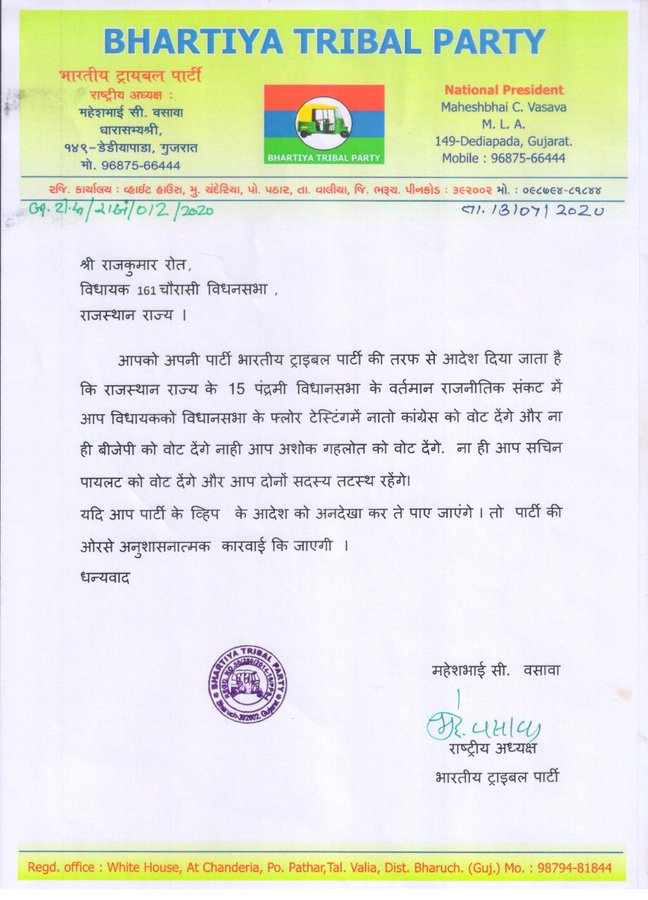 New Delhi: The Bharatiya Tribal Party, a regional party, has reportedly withdrawn its support for the Ashok Gehlot government in Rajasthan. The BTS has two MLAs in Rajasthan. The party has suggested that no one should vote if a no-confidence motion is passed against the Gehlot government.
BTP president Mahesh Bhai made the statement in a letter to Vasava party MLAs. Currently, two BTS MLAs are staying at the resort along with Congress MLAs. Gehlot has shifted his MLAs to the resort to prevent a coup move.
Meanwhile, BTP MLAs have stated that they are with Chief Minister Ashok Gehlot. There is currently some confusion. But now they are with the government. But the MLAs said they would take a final decision only after discussing with the party leadership. The Gehlot camp claims to have the support of 102 MLAs.
Gehlot has called another assembly party meeting at 10.30 am on Tuesday. Sachin Pilot and dissident MLAs have asked to attend the meeting. Sachin claims to have the support of 30 MLAs. He has made it clear that he will not join the BJP. According to reports, Sachin's move is to form his political party. There are indications that Sachin will form a new party called the Pragathisheel Congress.
In the 200-member Rajasthan Assembly, the absolute majority required to form a government is 101. The Gehlot government had the support of 120 people, including 107 Congress MLAs. The opposition has the support of 75 people, including 72 BJP MLAs.