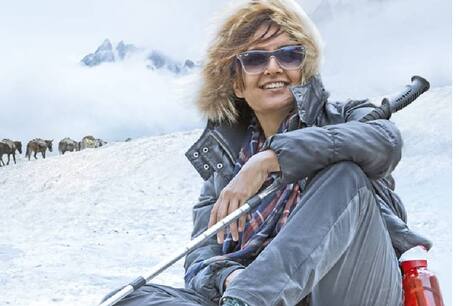 The trailer of Sanalkumar Sasidharan directed movie 'Ahar' (Kayattam) starring Manju Warrier has been released. The trailer has been released by Oscar winner AR Rahman.
The film will be screened at the 25th Busan Film Festival on October 21. The. After Durga and Chola, Ahar (Climb) is directed by Sanal Kumar Sasidharan. The film is based on trekking through the dangerous Himalayan mountains.
Other important characters in the film are Ved Vibes who played a notable role in Joseph and newcomer Gaurav Raveendran.
Another feature is that all the songs are arranged as On the Spot Improvisation at the Himalayan trekking sites where the shooting took place.
The film is produced by Shaji Mathew, Aruna Mathew, Manju Warrier, and Sanal Kumar Sasidharan under the banner of New Art Movies, Manju Warrier Productions, and Paramount Pictures.Ratheesh Eetillam composes the songs for the ten-song film. Apart from Malayalam, the characters also speak the language of Ahar Samsa which was developed for this film.
Apart from directing, Sanal Kumar Sasidharan is in charge of the script, editing, and sound design.