Lunar 25 Crashes into Moon After Catastrophic Failure, Mission Failed Confirmed by Roscosmos
Roscosmos, the state space corporation of Russia, announced that they lost contact with the craft on Saturday at 11:57 GMT due to an issue during the craft's transition to pre-landing orbit. The craft was scheduled for a soft landing on Monday.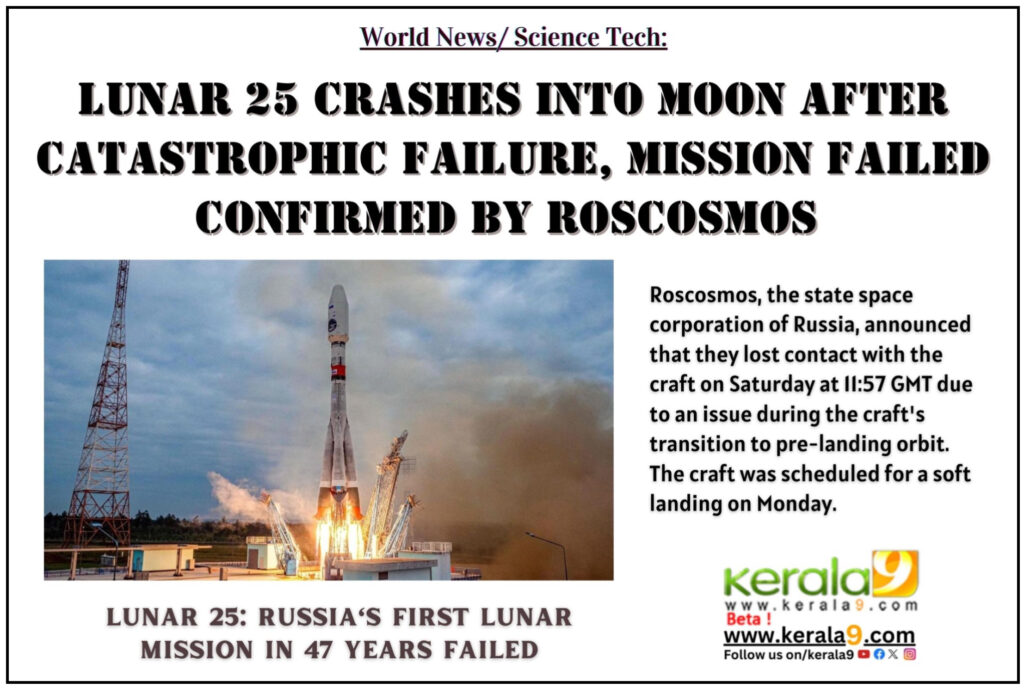 Image Source: X @PublicistNews18
It's sad news for all space enthusiasts! It is with great disappointment that we are informing you that Russia's new mission to the Moon ended in failure. After 47 long years, the Luna-25 spacecraft spun out of control and tragically crashed into the moon. This unfortunate event highlights the decline of Russia's once mighty space program since the Soviet era. The State Space Corporation, Roscosmos, has reported that contact with the craft was lost at 11:57 GMT on Saturday due to a problem during the preparation for pre-landing orbit. A soft landing was scheduled for Monday, but unfortunately, this was not meant to be.
Roscosmos reported in a Telegram post that an abnormal situation arose onboard the automatic station during the operation, hindering the manoeuvre from being executed with the specified parameters. Roscosmos encountered an unexpected challenge while attempting to enter pre-landing orbit for its scheduled Monday moon landing. Despite the agency's best efforts to locate the unmanned spacecraft, contact was lost, and a preliminary analysis revealed that it had collided with the lunar surface and ceased to exist. Rest assured, an interdepartmental commission will thoroughly investigate the cause of this incident.
The potential ramifications of the Luna-25 crash are not expected to affect the timeline of Chandryaan-3, as India's lunar mission remains on track to achieve a successful soft landing on the southern pole of the moon on August 23rd. The Indian Space Research Organisation (ISRO) has officially confirmed the aforementioned landing date and has also disclosed the precise time of the landing, which is set for 6:04 PM (IST). On Sunday, ISRO conducted the second and final phase of deboosting for Chandrayaan-3.