Chandrayaan-3 completed the final deboosting, all focus now shifting towards the landing
Around 2:00 AM in the morning, the final process of deeboosting was successfully performed by Chandrayaan-3 and on August 23rd evening Vikram Lander will attempt to land on the moon.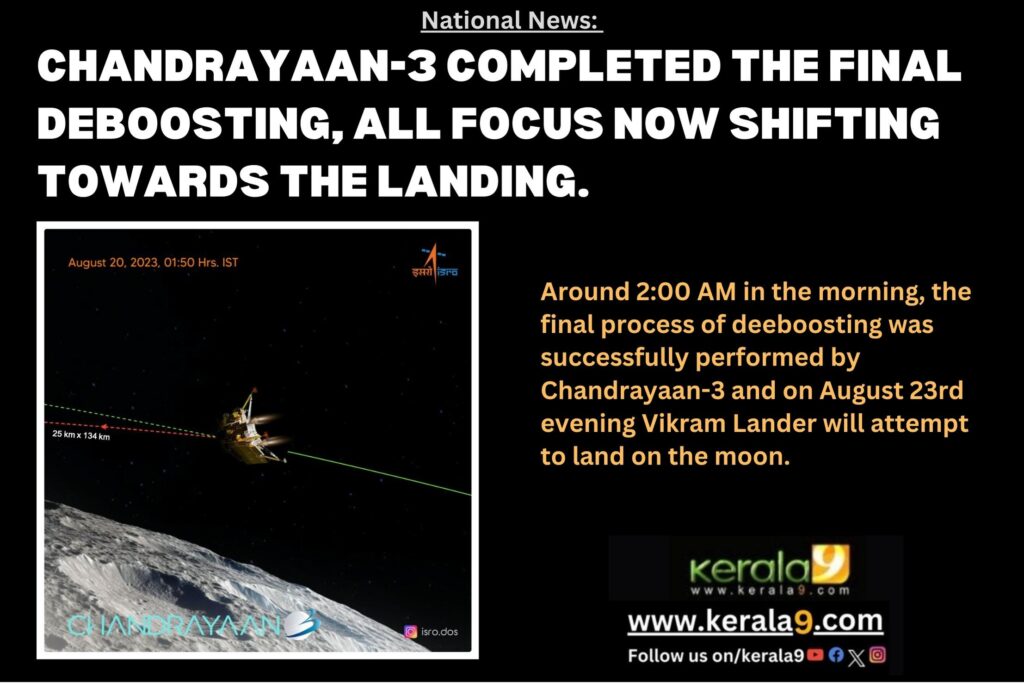 Image Source: X @isro
Attention all space enthusiasts! The Indian lunar mission, Chandrayaan-3, is on the brink of a historic success! The Vikram lander has successfully completed its second de-boosting and has reached the moon. This incredible achievement was accomplished at around 2 am, and the minimum distance between the lander and the moon is now a mere 25 km, with a maximum distance of 134 km. This is a momentous occasion for India and the entire world. The Chandrayaan-3 mission is a testament to India's technological prowess and its commitment to exploring the mysteries of the universe.
According to a statement released by ISRO on X, the LM orbit has been effectively reduced to 25 km x 134 km following the second and final deboosting operation. The module is currently undergoing internal checks and will remain in wait for the designated landing site until sunrise. The powered descent is scheduled to commence on August 23, 2023, at approximately 1745 Hrs. IST.
ISRO has announced that technical tests will continue as the Vikram Lander is expected to achieve a soft landing at 5.45 pm on Wednesday, following the successful completion of the final stage. The landing site is located at the South Pole of the Moon, and the spacecraft will undergo a process known as de-boost to bring it to the closest orbit (25 km x 134 km) to the Moon. Previously, ISRO had indicated that the primary objective was to reduce the probe's speed at an altitude of 30 km and land it on the Moon.
However, during the final deboosting phase, the Vikram lander reached an altitude of 25 km on the Moon. Subsequently, a horizontally moving probe will be turned perpendicular to the lunar surface, followed by the photo landing. It is noteworthy that Chandrayaan 3, which was launched on July 14, has already completed 36 days.