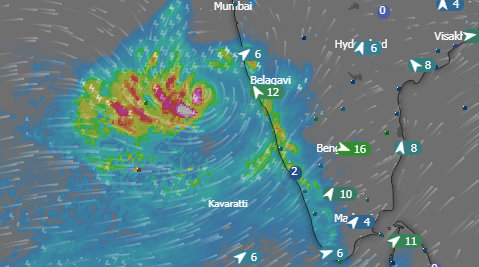 Thiruvananthapuram: The Meteorological department declared an alert that the depression occurred in the Arabian Sea is expected to increase by less than six hours. Low pressure will be a cyclone tomorrow, the Meteorological Department said. There is a possibility of strong rain.
Fishermen do not cross the sea because the sea is turbulent. The alert declared in the areas in the Arabian Sea along with the Lakshadweep, southwest coast of the Bay of Bengal, Kerala Karnataka coast.
In many parts of southern Kerala, the sea will be turbulent. Yellow Alert has been announced on Mondays and Tuesdays. The orange alert has been declared on Wednesday.
The death toll in the state has been causing heavy rains in the state. Lottery seller died in Ernakulam Kakkanad. Two injured in the accident. Prasannakumari and Radhakrishnan, natives of Thiruvananthapuram the deceased in the accident occurred in heavy rain. On Sunday, heavy rains broke out.
The health department has warned people to be cautious.