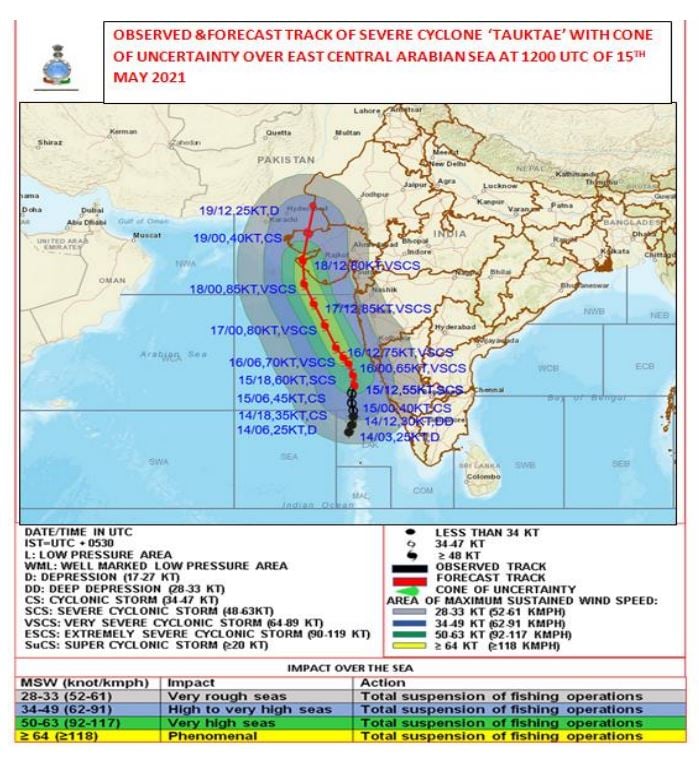 Thiruvananthapuram: Chief Minister Pinarayi Vijayan said in a press conference that cyclone Tauktae, which formed in the Arabian Sea, is getting stronger. Although the epicenter of the cyclone was moving north from our coast, the impact of the cyclone continued in Kerala.
Hurricane Tauktae is expected to make landfall in Kerala in the next 24 hours. The CM also said that the Central Meteorological Department has issued red alerts in various districts. The state is receiving widespread rainfall. Two days of torrential rains and strong winds have wreaked havoc across the state. Strong winds are expected in the northern districts tonight as part of the cyclone. The wind poses a great danger.
Even if the cyclone changes, the monsoon will reach the state in the next few days. The Central Meteorological Department has announced that the monsoon will reach Kerala by May 31. Even during monsoons, we are more prone to falling trees. Therefore, it is necessary to show seriousness in this matter, said the Chief Minister.
The Central Water Commission had issued a flood warning in the wake of rising water levels in rivers like Manimalayar and Achankovilar. Just because we are not in a rainy season does not mean that there is no danger of a great flood. However, if the heavy rains continue, the water level is likely to rise to dangerous levels. Therefore, those living on the banks of rivers should be careful, the CM said.
It has been directed to evacuate people from flood-prone areas at the required stage. Large dams do not store large amounts of water. Don't worry about that either. There is a situation where some small dams open and a limited amount of water flows out. The CM said those living under such dams should remain vigilant.
The government has launched the 'Punargeham' project as a permanent solution for the safety of endangered coastal residents. The scheme provides financial assistance to those living in houses that are considered to be at risk within a 50-meter tidal range to relocate and buy land in a safe place. Now we are in an emergency.
The epicenter was reported below the Pacific Ocean floor, however; no tsunami alert was issued. So at this point, we need to move to temporary relief camps to make sure no one's life is in danger. The CM said that the government is requesting the cooperation of all in this matter.
Two deaths have been reported so far in the last two days due to the severe natural calamities in Kerala. The deaths occurred in Ernakulam and Kozhikode districts. Both were drowning. Condolences on death. Avoid going into the water and crossing the river during heavy rains and winds. The Chief Minister said that if the monsoon is strong and there is a possibility of floods, everyone should be ready to accept and follow the instructions given by the government.