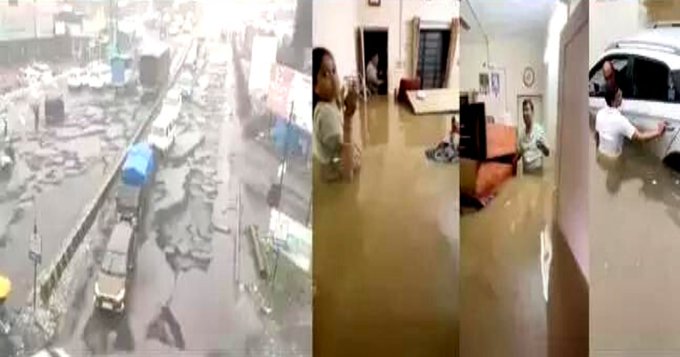 Ahmedabad: Seven people died in the last 24 hours due to heavy rains in Gujarat. Since June 1, the death toll has reached 63. Power cut in 66 villages. 3200 people were evacuated from Chhotauddepur, Navsari and Nalsad. Doswada dam overflowed. 9000 people were displaced.
468 people were rescued. Houses are under water in Navsari. The warning is that there is a possibility of heavy rain in many districts in the next five days. State Disaster Response Force and National Disaster Response Force have been deployed for rescue operations.
Water is stagnant in many residential areas. Underpasses and roads were flooded. Prime Minister Narendra Modi and Home Minister Amit Shah assured that the Center would provide all possible help. 16 people stranded on the banks of the Ambika river were airlifted. Ahmedabad city received 219 mm of rain on Sunday night.
Rains continue to be heavy in several districts of Gujarat. Chhota Udepur, Gujarat received 1433 mm of rain in the last 12 hours. Heavy rains will continue for the next 5 days, according to the Meteorological Department.
13 teams of NDRF have reached the state for rescue operations. The State Disaster Management Force is also on the scene. Over 3000 people have been evacuated from various areas of South Gujarat where the heavy rains continue.
Chief Minister Bhupendra Patel asked the District Collectors to make preparations to evacuate more people from the affected areas. Public transport continues to be disrupted at many places.