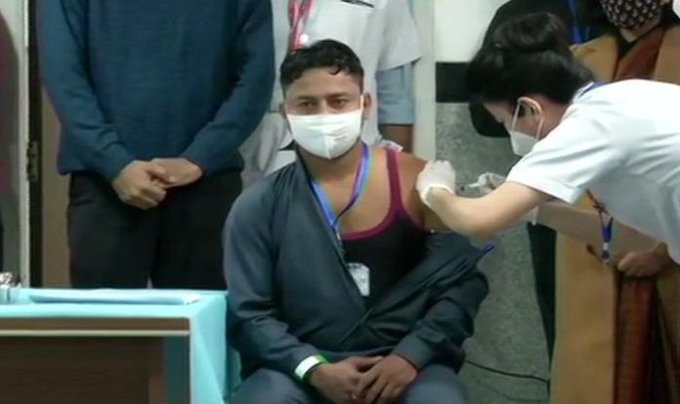 New Delhi: The country's Covid vaccination drive has begun by giving a cleaner named Manish Kumar. Manish Kumar, a cleaning worker, was vaccinated at the Delhi AIIMS. Prime Minister Narendra Modi inaugurated the virtual and launched the Covin app at the vaccination function. The Prime Minister said that today's vaccination is an example of the country's potential and talent.
Health Minister Harsha Vardhan also attended the function at AIIMS. AIDS chief Dr. Randeep Guleria also received the Covid vaccine. This is the third time he has been vaccinated here.Health Minister Dr. Harsha Vardhan said that he was very happy and satisfied today. He hopes the vaccine will work as an antidote against Covid. In Bengaluru, a nurse was vaccinated and vaccination was inaugurated. Chief Minister Yeddyurappa was present on the occasion. Prime Minister of Bhutan Lotte Tshering has congratulated Prime Minister Narendra Modi on initiating the vaccination process.
In the first phase, the vaccine will be given to around three lakh health workers in 3006 booths. Covishield or Covaccine will be given to 100 people in a booth. Two doses of the vaccine should be given at 28-day intervals. Vaccination is given in 133 centers in Kerala. Body aches and fever are common after the injection, officials said.