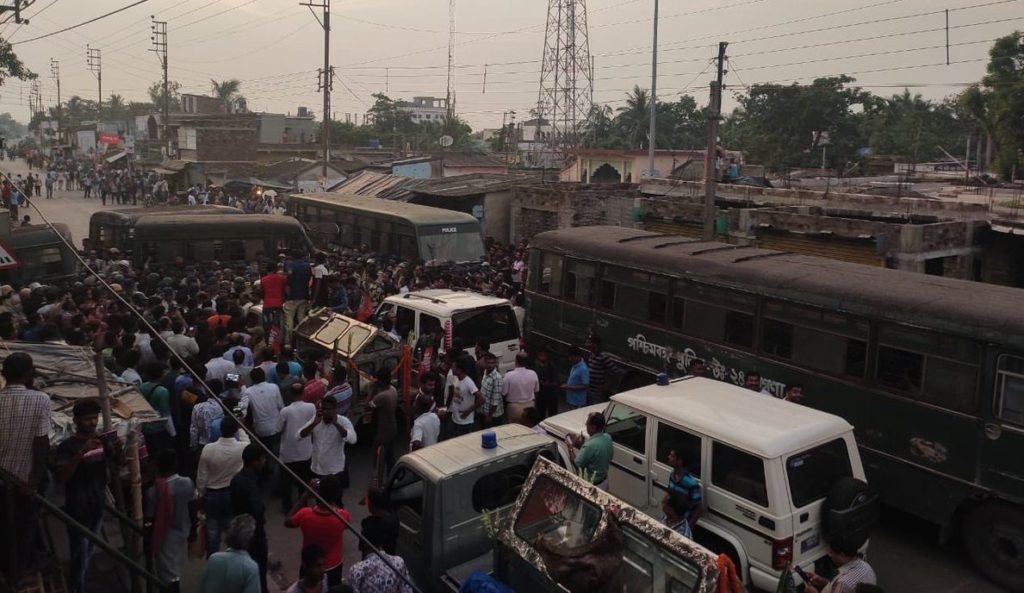 Kolkatta: Five persons were killed in an encounter between Trinamool Congress and BJP activists in West Bengal. Three of the BJP's one Trinamool worker and a civilian were killed. Several were seriously injured. Some are alleged to be missing.
The night encounter occurred in Nasrath area of North 24 Parganas district. Trinamool activist Qayum Mollah, BJP activists Pradeep Mondal and Sukanta Mondal were killed. Sukanta is shot dead in the left eye. Several business establishments and homes have been smashed into clashes.
The dispute broke out over the unfolding of the flags that had been installed in the area. Sayanthan Basu, the state secretary of the party, alleged that Thapan Mandal, another activist of the party, died in the incident. The state food department minister Jyothiprio Mallik alleged that the BJP killed TMC six activists.
The incident took place at Nyayjat Sandeskhali province, about 70 km from Calcutta. A police team has been deployed in the area. It is a seat included in the Barshihat Lok Sabha constituency. The Trinamool candidate has been nominated for the Lok Sabha from here.
The local media reported that the BJP workers who came to the booth committee meeting in Trinamool Congress had provoked. Trinamool also alleged that BJP activists surrounded with the pistols.
Union Home Minister Amit Shah has sought a report from the BJP state unit of the party. Last Thursday a CPM activist was killed. Protesting against the ongoing political assassination, the Left Front organized a demonstration in Kolkata.
There was widespread tension between the two in Lok Sabha polls. The confrontation with Amit Shah's roadshow was brought into the atmosphere similar to street fighting.