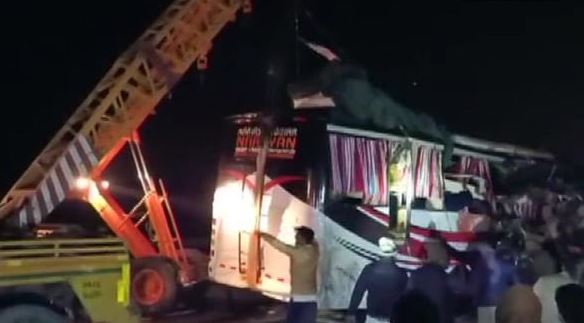 Firozabad: At least 14 people were killed when a bus collided with a truck in UP. Many were seriously injured. The injured were taken to Itawa Safai Hospital. Reports indicate that over 35 people were seriously injured.
The accident happened on the Agra-Lucknow Expressway in Firozabad, Uttar Pradesh. About 50 passengers were on the bus at the time of the accident. According to eyewitnesses, the bus crashed into the back of a truck carrying the goods.
The front of the bus completely damaged in the accident. The accident is believed to have been caused by the driver falling asleep and then losing control.
The tragedy began at around 10 pm on Wednesday at the Nagla Khankar police station in Firozabad. The double-decker sleeper bus was heading from Delhi to Modipari in Bihar when it collided with a container truck. The death toll is likely to rise, authorities said.
ADGP Ajay Anand of Agra and Satish Ganesh of Agra Agra were rushed to the spot and a rescue operation was launched. The rescue operation took place all night.
Upon learning of the accident, Uttar Pradesh Chief Minister Yogi Adityanath contacted the district magistrate and the police chief and directed the rescue operation.