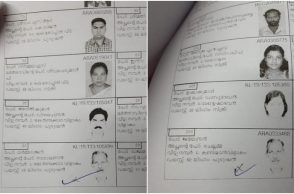 Kochi: Opposition leader Ramesh Chennithala's petition seeking freezing of double votes in the state will be reconsidered by the high court today. The High Court had yesterday said that strict action should be taken in the state to prevent double voting. The court said it was clear that there were serious flaws in the state's voter list. The court also said that the Election Commission should take action to enforce the war-time order.
The court also said in an interim order that the Election Commission should know what can be done for this today. The commission said all measures had been taken to prevent fraudulent voting and that it would not be possible to change the voter list until after the assembly elections.
The court issued the interim order on a petition filed by Opposition leader Ramesh Chennithala. According to Ramesh Chennithala, there are more than 434,000 double or fraudulent votes in the state.