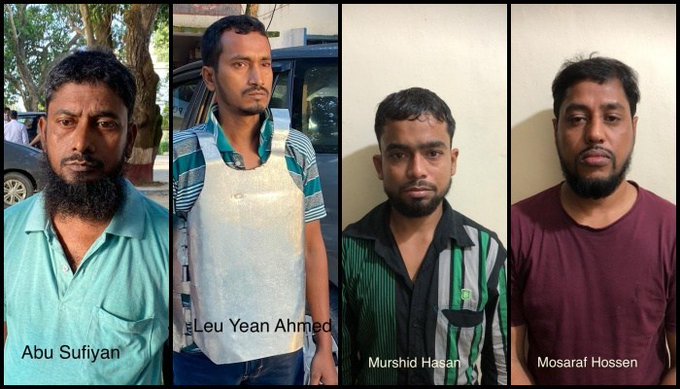 Kochi / New Delhi: Nine Al Qaeda terrorists have been arrested in a simultaneous raid by the National Investigation Agency (NIA) in Kerala and West Bengal. Three terrorists were arrested in Ernakulam district under the guise of out-of-state workers. This is the first time in Kerala that the Al Qaeda presence has been confirmed.
Murshid Hassan from Pathalam, Kalamassery, Yakub Biswas from Mudikkal, and Perumbavoor and Mosaraf Hosson from Alapra were arrested. Najmus Saqib, Abu Sufyan, Mainul Montal, Lee Yin Ahmad, Al Mamun Kamal, and Athitur Rahman were arrested in Murshidabad, West Bengal. All the accused are from Murshidabad. The NIA said that they had planned to carry out blasts in Delhi, Mumbai, Kochi, and Visakhapatnam with the support of Pakistan. Clarified. The Kochi shipyard, the southern naval base, and the defense zones of Karnataka were also on the hit list. The aim was to carry out a series of simultaneous blasts on Diwali day. The accused met in Delhi about to finalize the plan of attack and the NIA arrested them, reports said. After arriving in Delhi, a group went to Kashmir to collect weapons and explosives.
Police seized explosives, laptops, pamphlets, handguns, other weapons, and ammunition notes from the accused. Movements and accommodation were traced by tracking their Internet Protocol (IP) address. The NIA said the leader of the group was Abu Sufyan. Mosaraf Hossain, who was with his family at Mudikkal in Perumbavoor, was behind the terrorist activities in Kerala. The group was in contact with the Al Qaeda leadership in Pakistan through the social media telegram. For a long time, they were under the observation of the NIA.The raid took place at 12 places in Kerala and Bengal at the same time yesterday morning. The phone-internet communications of the accused have been monitored for two weeks. Late last year, they were trained at a secret center in Kupwara district of Kashmir. Batteries, switches, wires, and explosives were collected to make the bomb. The terrorists arrested in Ernakulam were produced in court and remanded. They will be flown to Delhi today. The transit warrant to be produced in Delhi court was released by Ernakulam Judicial First Class Magistrate S. Shamnadh.