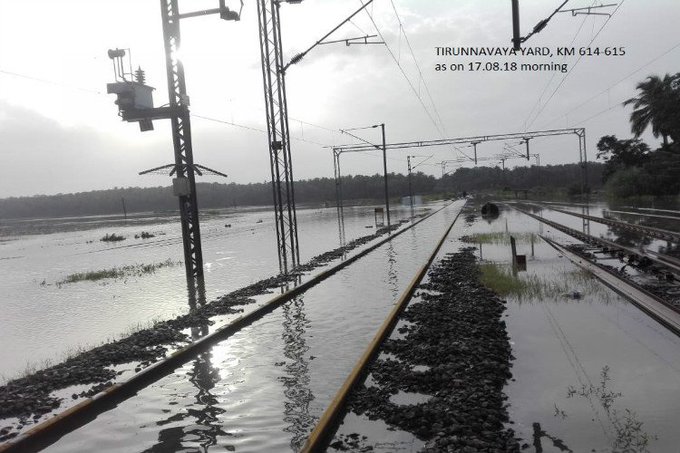 Due to heavy rains and landslides, 12 trains were canceled in the state today. 8 trains partially canceled. Railway authorities said that the traffic on Palakkad-Mangalore route could be restored by Saturday afternoon. Some long-distance trains were diverted via Tirunelveli Erode. Meanwhile, the road near Balaramapuram was blocked due to a landslide. Due to this the Eranad Express and Parasuram will be delayed.
Trains canceled;
Express Thiruvananthapuram Kannur Janashatabdi (12082) Express will run between Kannur and Shornur.
17229 Sabari Express will not run between Thiruvananthapuram and Coimbatore.
Parasuram Express (16649) between Mangalore and Vadakkancherry will not run between Mangalore and Vadakkancherry
Train 56603 Thrissur Kannur passenger canceled
Palakkad Ernakulam Memu (66611) canceled
Kozhikode- Thrissur Passenger (56664) has been canceled
16333 Veravalli Thiruvananthapuram Express will not run between Kannur and Thiruvananthapuram.
Kannur Alappuzha Internet Express (16308) canceled
Thiruvananthapuram- Lokmanya Tilak Netravathi Express (16346) was canceled
The Kochuveli Chandigarh contact line (12217) was canceled
Thiruvananthapuram Indoor Ahalyanagari (22646) express canceled
Thiruvananthapuram Kozhikode Jan Shatabdi Express (12076) has been canceled
Mumbai CST Express (16332) has been canceled
Nagercoil Mangalore Ernad Express (16606) will run between Thrissur and Mangalore only till Thrissur.
Nagercoil Mangalore Parasuram Express (16650) will not run between Vadakkancherry- Mangalore.
Kanyakumari Mumbai CST Jayanti Janata (16382) diverted Nagercoil, Tirunelveli and Madurai Eroad
Tirunelveli Palakkad Palaruvi Express will not run between Thirunelveli- Punalur route today and tomorrow.