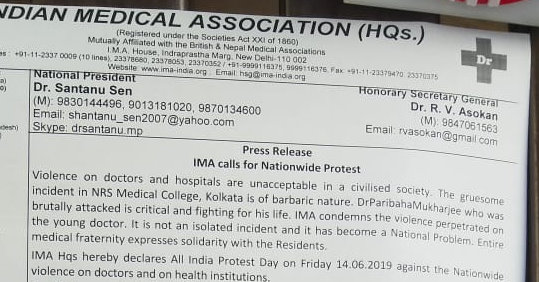 New Delhi: The Doctors' Association of Indian Medical Association (Doctors) said it will go on strike around the country on Monday (June 17). This is solidarity to the junior doctors' strike which was held in the West Bengal, the organization said. The strike will be from 6 am to 6 pm. The IMA said that they will approach the Prime Minister Narendra Modi and Home Minister Amit Shah for make law for the attack against doctors. About 3.5 lakh doctors will be part of the strike.
The Delhi Medical Association today called for a statewide agitation to protest the case of junior residential doctors who have been training in Neel Ratan Government Hospital in Kolkata.
Doctors in the state reported that 4500 doctors have stopped checking patients in Maharashtra. The doctors are also working in Hyderabad also held a strike.
Relatives of a patient who died in the hospital attacked the junior doctor, Paribhogo Mukherjee at the NRS Medical College in Kolkata. The relatives of the victim alleged that the patient had died due to the negligence of doctors. The seriously injured doctor is under treatment. This is followed by junior doctors starting the statewide strike.