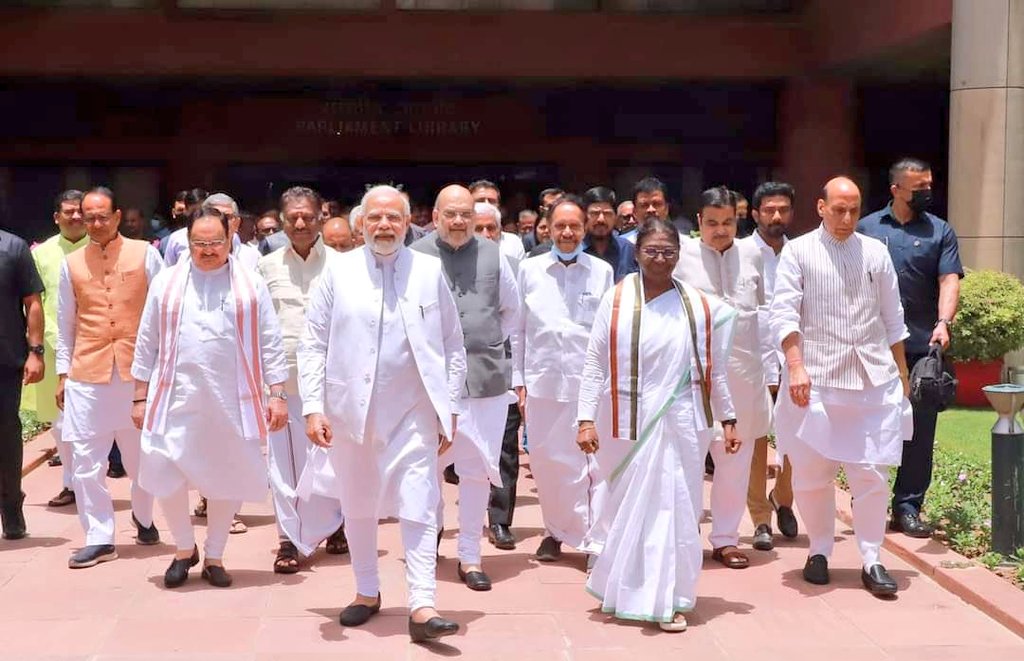 New Delhi: NDA presidential candidate Draupadi Murmu submits nomination papers. The nomination was filed along with Prime Minister Narendra Modi, Home Minister Amit Shah, and several NDA leaders. Opposition candidate Yashwant Sinha will file his nomination on the 27th.
Union ministers, including Prime Minister Narendra Modi and Home Minister Amit Shah, along with Chief Ministers Yogi Adityanath and Himanta Bishwa Sharma, along with representatives of the JDU, AIDMK, YSR Congress, and BJD parties came out in support of the nomination. Prime Minister Narendra Modi nominated Murmu. 50 people signed in support. Murmu submitted four sets of nomination papers. The NDA's move is to go to various states after submitting the petition and start the process of consolidating support.
After submitting his nomination papers, Murmu spoke to Congress President Sonia Gandhi, West Bengal Chief Minister, Trinamool leader Mamata Banerjee, and NCP leader Sharad Pawar and sought their support. More regional parties have come out in support of the NDA.
There are indications that the Jharkhand Mukti Morcha with the UPA may support Draupadi Murmu. The JMM will meet tomorrow to decide who to support in the presidential election. Opposition candidate Yashwant Sinha will file his nomination on May 27. Yashwant Sinha will visit Bihar and Jharkhand for two days to seek support. After providing Z category security to Draupadi Murmu, Yashwant Sinha was also given Z category security by the Central Government.