VIKRAM LANDER SUCCESSFULLY DETACHED FROM THE THE SPACESHIP; CHANDRAYAAN-3 IS CLOSER TO THE MOON
The critical phase of Chandrayaan 3 has been successfully completed. The lander module separated from the propulsion module so the lander started its journey to the moon and expected to land on the moon on August 23rd.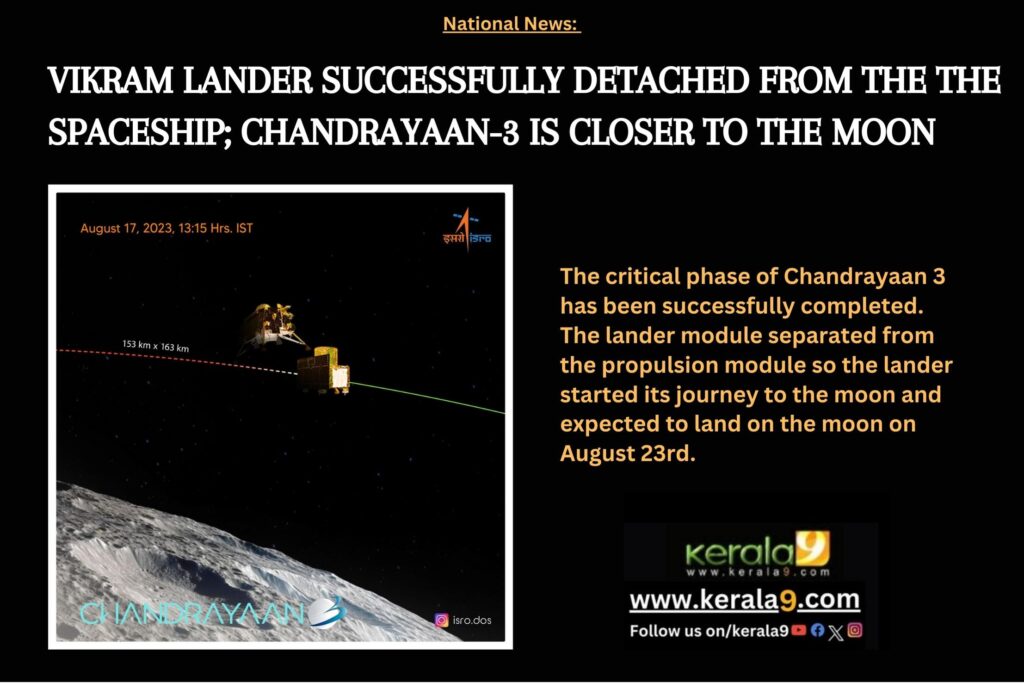 The Chandrayaan-3 project from India has reached a further milestone in its lunar exploration voyage. The spacecraft's 'Vikram' lander module, which was carrying the Pragyan rover, successfully disengaged from the propulsion module on Thursday, thrusting the mission onward.
The rover will remain in orbit for several more days until the Pragyan lander and rover attempt a lunar landing on August 23.
According to the tweet of ISRO, After the separation, ISRO posted on X: "Thanks for the ride, mate! 👋' said the Lander Module (LM). LM is successfully separated from the Propulsion Module (PM). LM is set to descend to a slightly lower orbit upon a deboosting planned for tomorrow around 1600 Hrs., IST."
According to ISRO, "the lander will be able to soft-land at a specific lunar site and deploy the rover, which will carry out in-situ chemical analysis of the lunar surface during its mobility." The lander and rover are equipped with research payloads to conduct experiments on the lunar surface."
Chandrayaan-3 was launched by The Indian Space Research Organization on July 14th and Satish Dhawan Space Centre in Sriharikota, Andhra Pradesh witnessed the victorious launch of Chandrayaan-3. If Chandrayaan-3 managed to land successfully India will be the fourth country to land on the moon after the United States, Russia, and China. To ensure a safe landing on the moon Chandrayaan-3 will use components like electronics and subsystems. The navigation sensors, propulsion systems, guidance and control systems will be also utilized for safer landing.