Three big Tamil movies are releasing this month and all trailers of the three movies have been released on YouTube by the makers.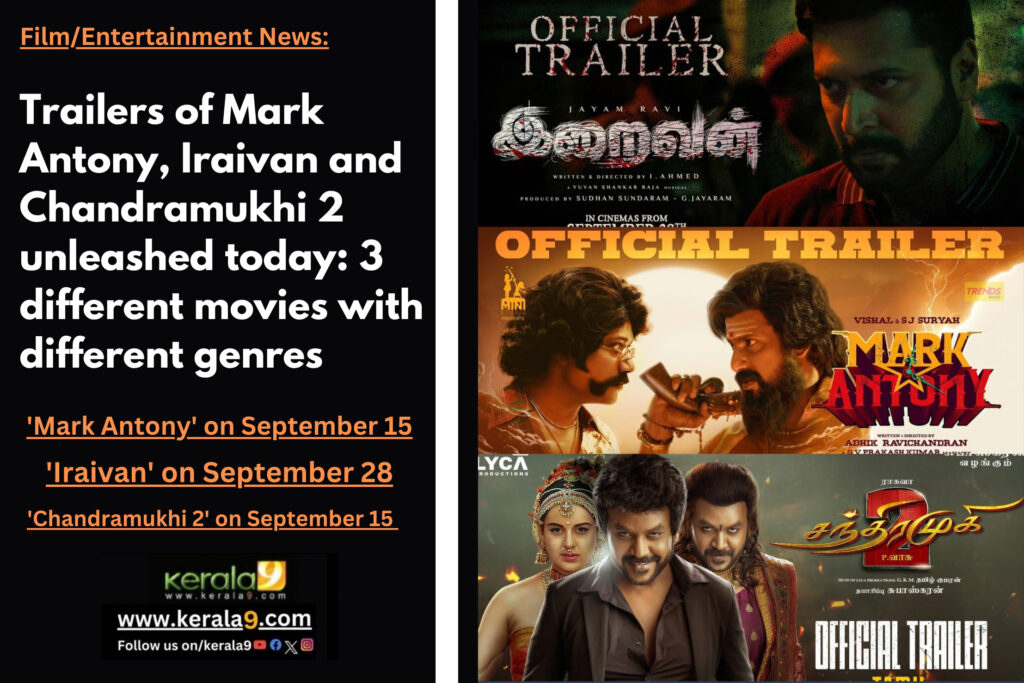 The makers of 'Mark Antony' have released their trailer today and are about to set the theaters with energy-packed visuals on September 15. The movie is loaded with action, comedy, time travel and gangsters with so-called 'discipline'. GV Prakash musical with the opening dialogue "Welcome to the world of Mark Antony, bro" in the voice of Karthi made the trailer a magical one with striking visuals and a stunning action series, all established to make the magic on the screen on September 15. Mark Antony is a highly anticipated movie starring Vishal and SJ SURYA as the main lead written and directed by Adhik Ravichandran. 

The trailer of 'Iraivan' directed by I Ahmed, starring Jayam Ravi and Nayanthara has been released and the movie 'Iraivan' is set to jump into theaters on September 28. 

The menacing Crime-thriller movie has revealed actor Rahul Bose as a smiley psycho-killer named Brahma who is killing 12 young girls. We are then introduced to a police officer named Arjun (Jayam Ravi) who is mercilessly encountering the criminals and justifies that, "When criminals mercilessly commit crimes, I can't wait for God to serve justice,". The trailer then displays the romance between Arjun and Priya (Nayanthara). Soon after Brahma pulls back and escapes from the authorities targeting Arjun and continuing his urge to kill. The trailer depicts a promising and disturbing crime thriller movie.
Chandramukhi 2 trailer: Get ready to witness again the clash of 'Vettaiyan vs. Chandramukhi':
P.Vasu's trailer of Chandramukhi 2 starring Ragava Lawrence and Kangana Ranaut was released by Lyca Productions. Ragava Lawrence as Vettaiyan and Kangana as Chandramukhi demonstrated their conflicts and are now ready for the clash which is to get revenge before 20 years. The horror movie Chandramukhi released in 2005 was a super hit and now we hope that part 2 of it will be a success. The iconic 'Rajadhi Raja…' chant, the 'mother of all red-herrings python, the grand Vettaiyan Raja's palace, Vadivelu returned as Murugesan and the beginning shots showcasing the doors of Chandramukhi remembered and took to the world of the aesthetic Chandramukhi movie. New family characters played by Radhika Sarathkumar, Lakshmi Menon, Mahima Nambiar, Shrusti Dange, and surpass the Vettaiyan Raja's castle, which is now under the authority of Murugesan. Why has still Chandramukhi come for Vettaiyan and this time will the big snake have any role that will be witnessed in the movie on September 15. 

Get ready to watch an energy-packed flick with comedy, action and time travel 'Mark Antony' on September 15 which is a highly expected movie starring Vishal and SJ Surya. Mark your calendars for 'Iraivan' on September 28 and get ready to glimpse the disturbing crime thriller movie "Iraivan" by I Ahmed with the pairing of Jayam Ravi and Nayanthara. "Chandramukhi 2" by P.Vasu may give some surprises and answers to the mysteries, so get prepared to go back to the world of Chandramukhi where the rematch between Vettaiyan and Chandramukhi is to be witnessed in theatres on September 15.