ACTION KING ARJUN AS HAROLD DAS: LEO MAKERS RELEASED A THRILLING GLIMPSE
On Action King Arjun Sara's Birthday, the makers of Leo revealed a surprising glimpse of his character Harold Das and looks prominent.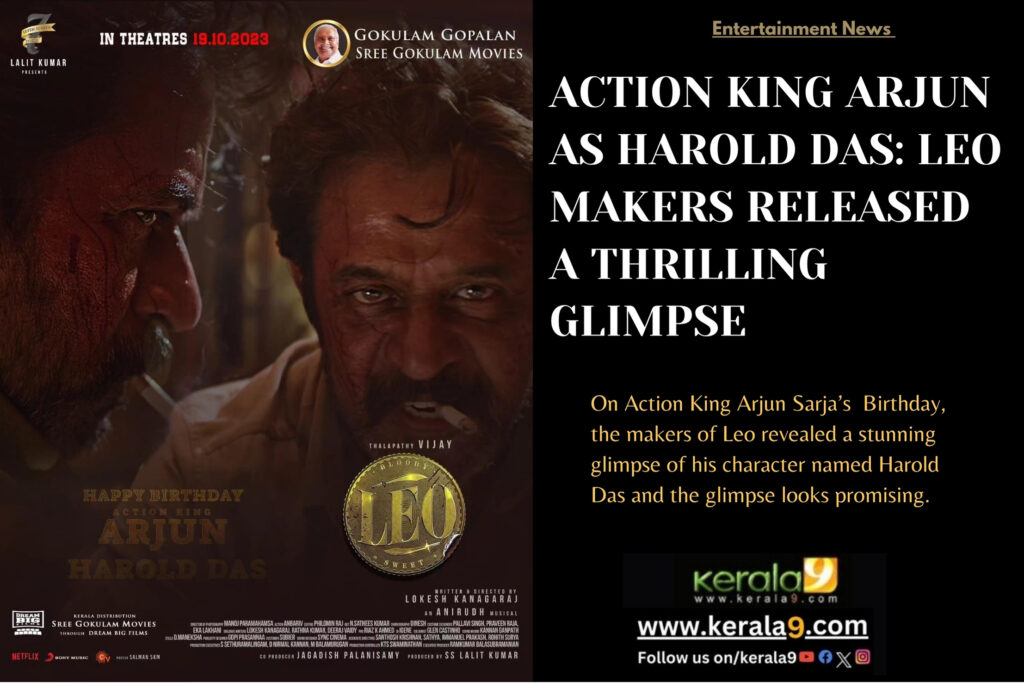 Image Source: X (Twitter) @ GokulamMovies

Thalapathy Vijay's upcoming film Leo is the top most anticipated movie of the year. And yesterday our Action King Arjun Sara celebrated his 61st birthday so as a birthday tribute the makers of Leo unveiled a stunning teaser as a tribute. The glimpse has a duration of 42 seconds and the teaser looks fantastic. After the glimpse of Sanjay Dutt's Antony Das now the director Lokesh Kanagaraj showcased another prominent character 'Harold Das' played by Arjun.
The glimpse has a short duration and it comes with a single dialogue and some violent action. The character played by Arjun is related to Sanjay Dutt's character Antony Das. The premise of the teaser looks powerful, the arrival of Arjun in an old model Benz and the intense looks on his face with cuts and wounds will draw our attention. In the glimpse, we will be able to see Arjun's character Harold Das is surrounded by many goons and he cuts the hand of his enemy without any mercy. This indicates he is dangerous and leads a dangerous gang. The last dialogue of Arjun in the glimpse had an impact and I'm eager to know how Arjun is going to portray his character Harold Das.
Leo is written and directed by Lokesh Kanagaraj and Seven Screen Studios produces the film. Anirudh Ravichandar composes the music and already the released single 'Naa Ready' sung by Vijay is on the trending list. October 19th is the release date of Leo and the Vijay Fans are ready to welcome Leo in full swag. Like everyone else, I'm also excited to know whether Leo is a part of Lokesh Kanagaraj's LCU world. Surprisingly Leo will be on IMAX screens and let's wait until October 19th to see the world of Leo.