JAILER'S BOX-OFFICE WEEKEND COLLECTION: BOX OFFICE IS STORMED BY RAJINI RAMPAGE
Rajinikanth starring Jailer is continuing its dominance at the box-office and within 3 days Jailer got a worldwide collection of ₹322 Crores.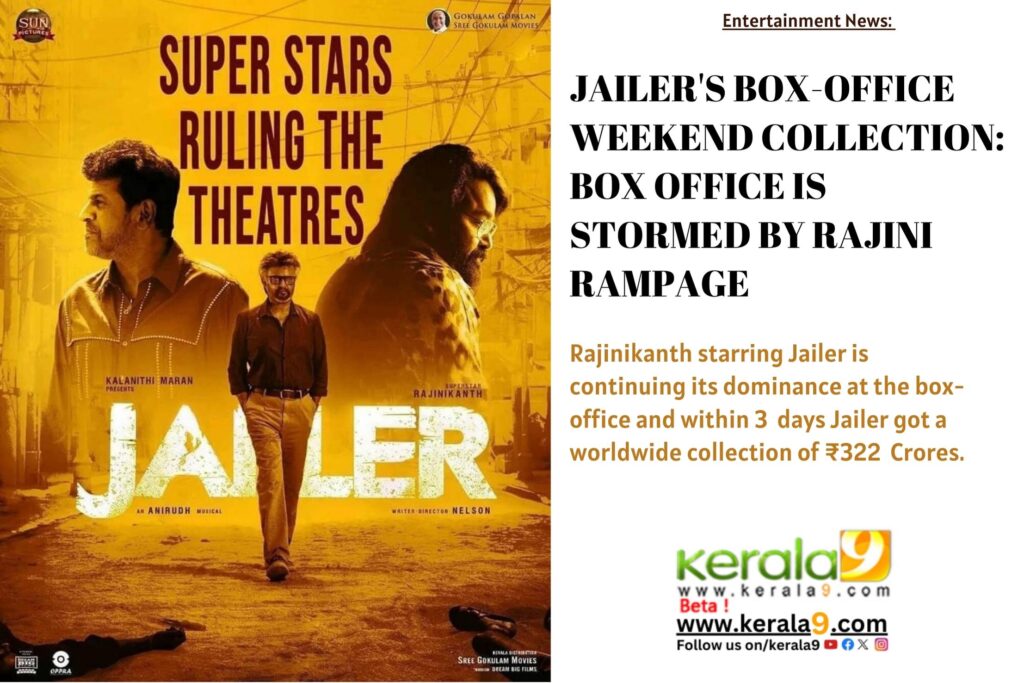 The action thriller 'Jailer' directed by Nelson Dilipkumar is the blockbuster hit of the year by storming the box office with records of high collection in multi-languages. The Jailer movie is a multistarrer flick starring Rajinikanth, Ramya Krishnan, Mohanlal, Tamannah Bhatia, Jackie Shroff, Shiva Rajkumar, Vinayakan, Sunil, Vasanth Ravi, Mirnaa, Yogi Babu, Jaffer Sadique and so on.
On day 1 i.e. on August 10, the movie made a collection of Rs.70 crores at the box office and in 4 days it made more than Rs.300 crores. And soon the movie is expected to cross Rs.500 crore within the month's end. The movie has become additionally profitable to the filmmakers as the movie was made up with a budget of Rs.322.20 Crore and it has exceeded the collection than the movie budget.
Let us see the box office collection all over the world in just four days :
Tamil Nadu: ₹95 Cr ( ATR )
Andhra & Nizam: ₹32 Cr
Kerala: ₹23.50 Cr
Karnataka: ₹32.50 Cr
Rest of India: ₹7 Cr
Overseas: ₹132.70 Cr / $16 Mn ( Est)
Total Worldwide Gross: ₹322.20 Cr
Rajinikanth stands as the sole Southern hero to achieve the remarkable accomplishment of holding 3 films that grossed over £700k+ at the UK box office i.e. Enthiran, 2pointO and Jailer. Only 7 Tamil films have tended to exceed $15 million Overseas such as Enthiran (2010), Kabali (2016), 2Point0 (2018), Vikram (2022), PonniyinSelvan1 (2022), PonniyinSelvan2 (2023) and Jailer (2023) in which four of the movie belongs to Superstar Rajinikanth. Jailer will cross Rs.350 crore beating the PS2 movie WorldWide collection today and will become the Highest grossing Tamil movie of the year 2023.