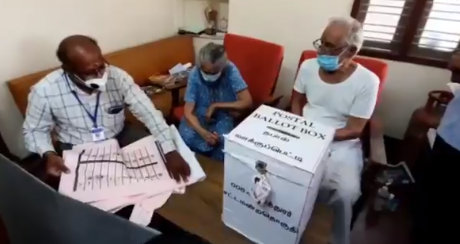 Thiruvananthapuram: Postal voting has begun for those who have applied for postal votes among the officers assigned for Assembly election duty. Postal voting is recorded at the voter facilitation centers in the constituencies where the officials vote. The Collector Navjot Khosa, who is also the District Election Officer, said that voter facilitation centers will be functioning in all the constituencies today and tomorrow (April 02, 03) and the officers assigned for election duty in the district should make use of this facility.
Postal voting can take place from 9 am to 5 pm on weekdays when the Voter Facilitation Center is open. Voters must carry a photo ID card issued by the Election Commission (RJC) or any other ID card approved by the Election Commission.
The services of a Gazetted Officer will be deployed at the Center to certify the declaration along with the postal ballot. There will be two polling officials and a police officer for the voting process. The voting process will be videotaped. The Collector also informed that the candidates and agents can monitor the voting process. Each day after the completion of the voting, the sealed box containing the ballot papers will be kept by the Returning Officer in the presence of the candidate or agent in a strong room set up for this purpose under police protection.