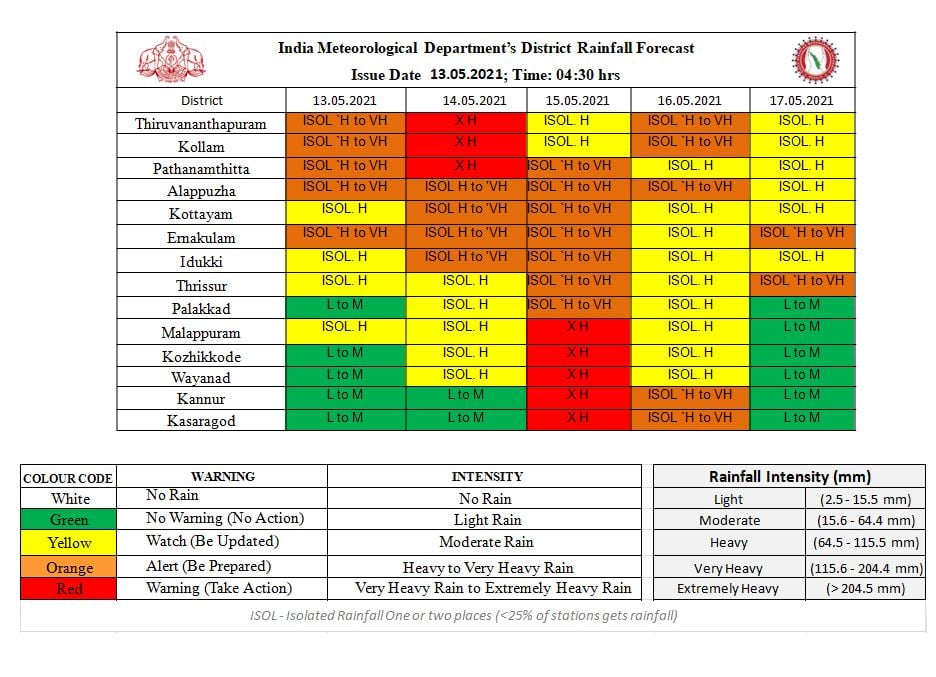 Thiruvananthapuram: Heavy rains are likely in Kerala due to low pressure in the south-eastern Arabian Sea. It started raining in many parts of the state. The Central Meteorological Department has issued red alerts in Thiruvananthapuram, Kollam, and Pathanamthitta districts tomorrow. On the 15th, a red alert was issued in Malappuram, Kozhikode, Wayanad, Kannur, and Kasaragod districts.
The low-pressure area formed this morning is expected to intensify near Lakshadweep on the 15th and turn into a cyclone on the 16th. It is expected to move in a north-westerly direction after turning into a hurricane.
Although Kerala is not in the path of winds, there is a possibility of strong winds, heavy rains, and sea squalls in the state from today till 17. Extreme levels of rainfall above 204 mm in 24 hours are called extreme rainfall. The monitoring center has warned the state to make preparations similar to the Red Alert as this type of rain is extremely dangerous.
May 14: Thiruvananthapuram – Red Alert
Kollam, Pathanamthitta, Alappuzha, Kottayam, Ernakulam, Idukki – Orange Alert
May 15: Pathanamthitta, Alappuzha, Kottayam, Ernakulam, Idukki, Thrissur, Palakkad, Malappuram, Kozhikode, Wayanad, Kannur, Kasaragod – Orange Alert
May 16: Thiruvananthapuram, Kollam, Alappuzha – Orange alert
Special caution is advised in the coastal areas. The Disaster Management Department has issued a warning to those living in coastal areas. Fishing has been banned off the coast of Kerala since midnight on Wednesday. Winds are expected to reach 50 kilometers per hour.
The Department of Disaster Management said the public and government agencies need to be extra vigilant as heavy rains are forecast. Extreme caution should be exercised in low-lying areas, riverbanks, and landslide-prone areas in districts where an orange and yellow alert has been declared.
A 24-hour control room has been set up at the Thiruvananthapuram District Medical Office in the wake of Hurricane Toute. The public can call for help at 0471-2476088, 0471-2475088.