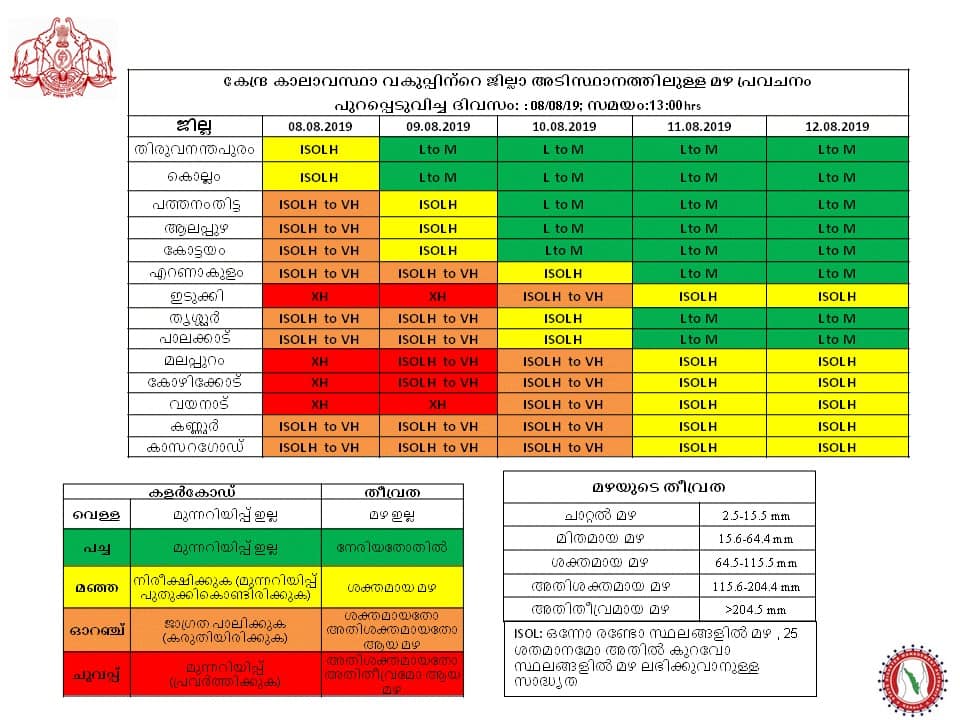 Thiruvananthapuram: The state will receive heavy rainfall today as well as tomorrow. Except for the districts of Thiruvananthapuram and Kollam, isolated and very heavy rainfall is likely to hit in these areas. Rainfall is expected to be as high as 24 cm in 24 hours.
Heavy rains are likely in the districts of Malappuram to Kasaragod tomorrow. Heavy rains will be experienced in Pathanamthitta, Kottayam, Idukki, Alappuzha, Ernakulam, Thrissur and Palakkad districts.
On the 10th, the power of the rain is likely to decrease slightly. Heavy rainfall is possible in Idukki and Kozhikode districts. Heavy rains are likely in Ernakulam, Thrissur, Palakkad, Malappuram, Wayanad, Kannur and Kasaragod districts.
Rainfall will be reduced on the 11th and 12th. Heavy rains will be experienced in the districts from Malappuram to the north. Seven to 14 centimeters of rain will occur within 24 hours.
Fishermen have been advised not to go to sea as the wind is strong. Strong winds are expected in the coastal areas of Kerala, Lakshadweep, and Karnataka from 8th to 11th. Strong winds are expected in other parts of the Arabian Sea until the 12th. Chhattisgarh has been experiencing severe rainfall in the state due to the prevailing pressure in Chhattisgarh.
Southern Railway has called off the trains servicing between Pune- Ernakulum routes. The express trains are canceled in these routes.