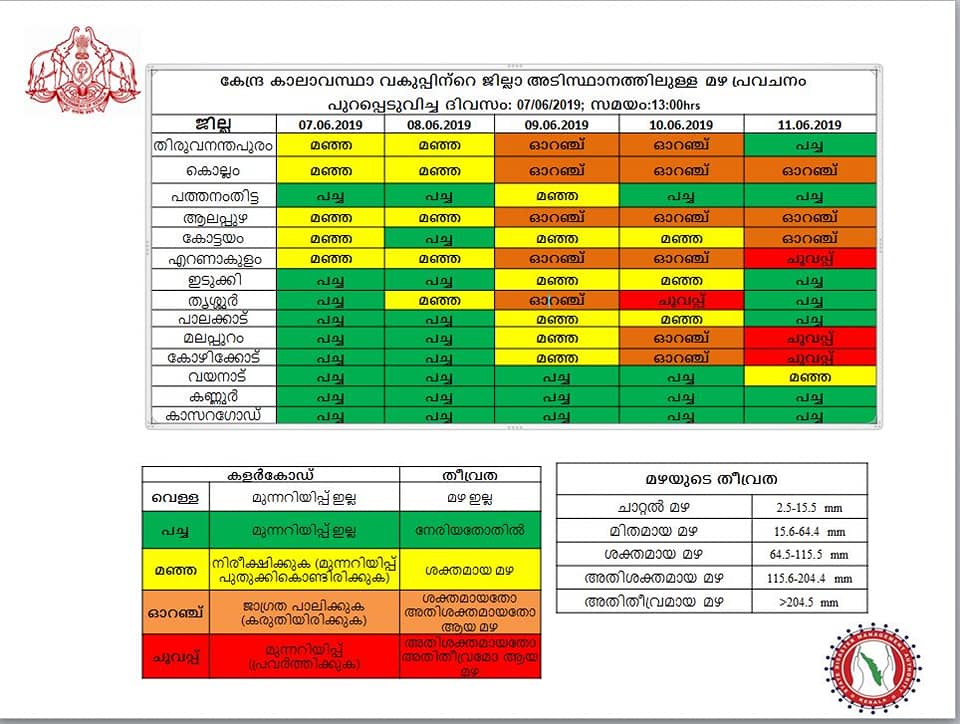 Thiruvananthapuram: The South West Monsoon is to reach Kerala on Saturday. Central climate department warns of heavy rains in the coming days. The Red Alert announced the Central Meteorological Service in four districts. In all seven districts, there are yellow and orange alerts. The red alert was followed by heavy rainfall in Thrissur district on June 10, 11 in Ernakulam, Malappuram and Kozhikode districts. In these districts, rainfall is likely to be 11.5 to 20 cm. The state government took all precautions and issued a high alert after warning.
Strong rainfall is possible in remote areas where red and orange alerts are declared. On Sunday, Thiruvananthapuram, Kollam, Alappuzha, Ernakulam, Thrissur districts, on Monday- Thiruvananthapuram, Kollam, Alappuzha, Ernakulam, Malappuram, Kozhikkode districts, on Tuesday- Kollam, Alappuzha, Kottayam, heavy rain will hit, sources said.
On Saturday, Pathanathitta, Kottayam, Idukki, Palakkadm Malappuram, Kozhikode, heavy rain is possible, said Met. Department.
People in frost-sensitive areas should be more careful. The journey to the hills should be limited. The State Disaster Management Authority has been instructed to make preparations for all departments and officials and to set up control rooms at the taluk level.
The sea will suffer because of the possibility of low depreciation on Sunday and the mid-eastern Arabian Sea between Kerala and Karnataka. Fishermen should be careful because of the wind likely to up in the speed at 35 to 45 km per hour.