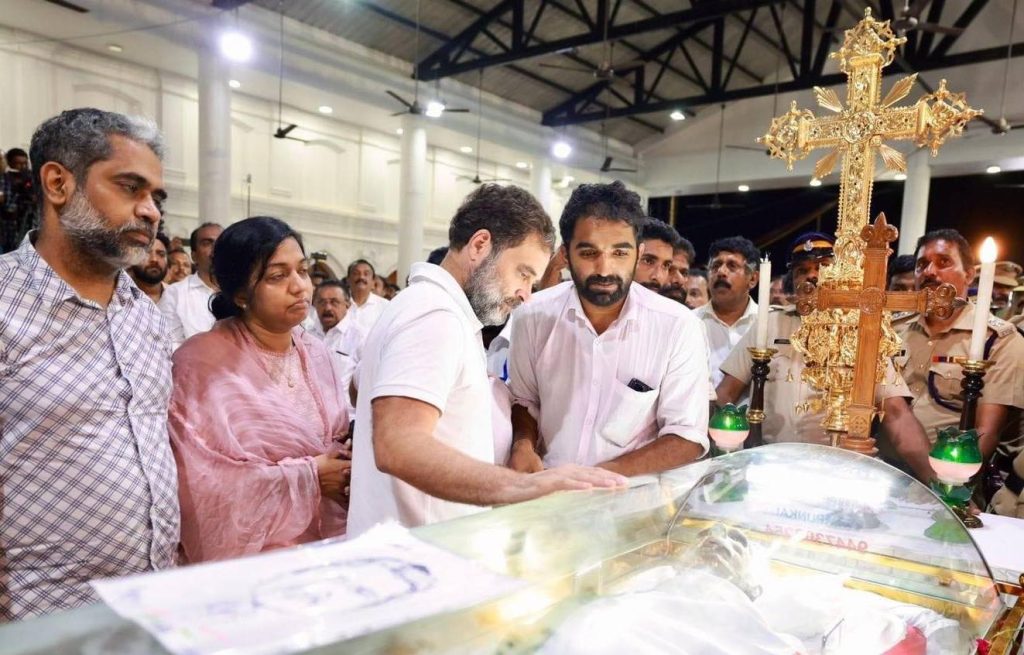 The iconic leader Oommen Chandy's burial took place at St George Orthodox Church at Puthuppally, Kottayam. For the last three days, more than ten thousand people from Kerala had conveyed their respect and gratitude for their favorite leader. He was a strong unshaken politician who stood up with courage and a man who fearlessly faced all the controversies. He is an example of modesty, also his nature of even befriending his enemies, and his compassion for helping the needy without despair are the qualities that every politician should follow.
Oommen Chandy was called 'People's Leader' because no matter what happens he always stood up for the people and he never betrayed the trust that the people gave him. To have a last look the people from the various parts of Kerala gathered for three days and nights relentlessly and this proves that he was a trustworthy leader for the people of Kerala. The funeral arcade which starts from Trivandrum to his hometown Puthuppally was having a massive crowd and all the people had waited to bid their last farewell. Now the veteran Congress leader is resting in a specially constructed tomb at St George Orthodox church cemetery at Puthuppally and let's pray for his soul.
Prime Minister Narendra Modi, Kerala Chief Minister Pinarayi Vijayan, President Droupadu Murmu, former Congress President Sonia Gandhi, and ex-MP Rahul Gandhi expressed their condolences and praised the life and works of Oommen Chandy to the public. The film stars like Mammootty, Kunchacko Boban, Suresh Gopi, Dileep, and Jagadeesh paid tributes to the mortal people's CM Oommen Chandy. Tamil Nadu Chief Minister M.K Stalin and Kerala Governor Arif Mohammed Khan have also visited and paid tribute to the mortals of Oomen Chandy.
On the other hand, the popular Malayalam actor Vinayakan had shamefully posted a live video on his Facebook account in which he was disrespecting Oommen Chandy by telling "Who is Oommen Chandy and why three days of mourning had been declared in the state on his demise". The video went viral and he was heavily criticized by the netizens and people of Kerala. Later, Vinayakan removed the video from his account after the heavily extensive criticism. Soon, a congress activist lodged a complaint against the actor for unwantedly commenting on the departed political leader.
Oommen Chandy served as the Chief Minister of Kerala twice and he became the longest-serving MLA by representing the Puthuppally constituency for five decades. It's the end of a great political chapter and without thinking much I can say that he will remain as an asset to the people of Puthuppally and no one can replace him.