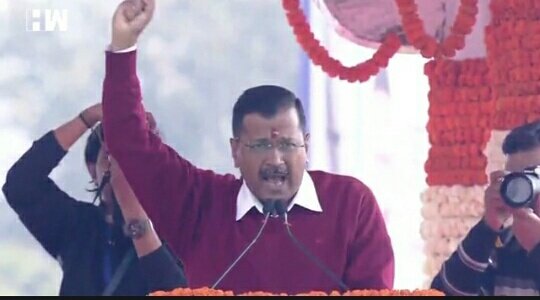 New Delhi: Arvind Kejriwal was sworn in as Delhi Chief Minister. Lieutenant Governor Anil Baijal administered the oath of office and secrecy at Kejriwal's swearing-in ceremony at Ramlila Maidan.
Manish Sisodia, Satyender Jain, Gopal Rai, Kailash Gahloth, Imran Hussain and Rajendra Gautam were also sworn in as ministers. They were in the previous cabinet. For the third consecutive time, Kejriwal was appointed as the chief minister of Delhi.
Prime Minister Narendra Modi was invited to the swearing-in ceremony but he did not attend. The Prime Minister is on a visit to Varanasi. No other state chief ministers and leaders have been called. The swearing-in the ceremony was attended by around 50 persons from various sectors who were responsible for the change in Delhi. They shared the stage with Kejriwal.
The Aam Aadmi Party welcomed the Delhi people with the slogan 'Come and bless your son'. Eight BJP MLAs attended the function. The Aam Aadmi Party has won 62 out of 70 seats.
Teachers, students, beneficiaries of the scheme at the Jai Bhim, Mohalla clinical doctors, Signature Architects bridge, work, and family life is lost fire safety officers, ambulance drivers, were invitees of Kejriwal.One-year-old Avian Tomar, also known as 'Mini Mufflerman' and 'Baby Kejriwal', also attended the ceremony. There are also reports that the cabinet might be expanded later. The Aam Aadmi Party has won 62 out of 70 seats.