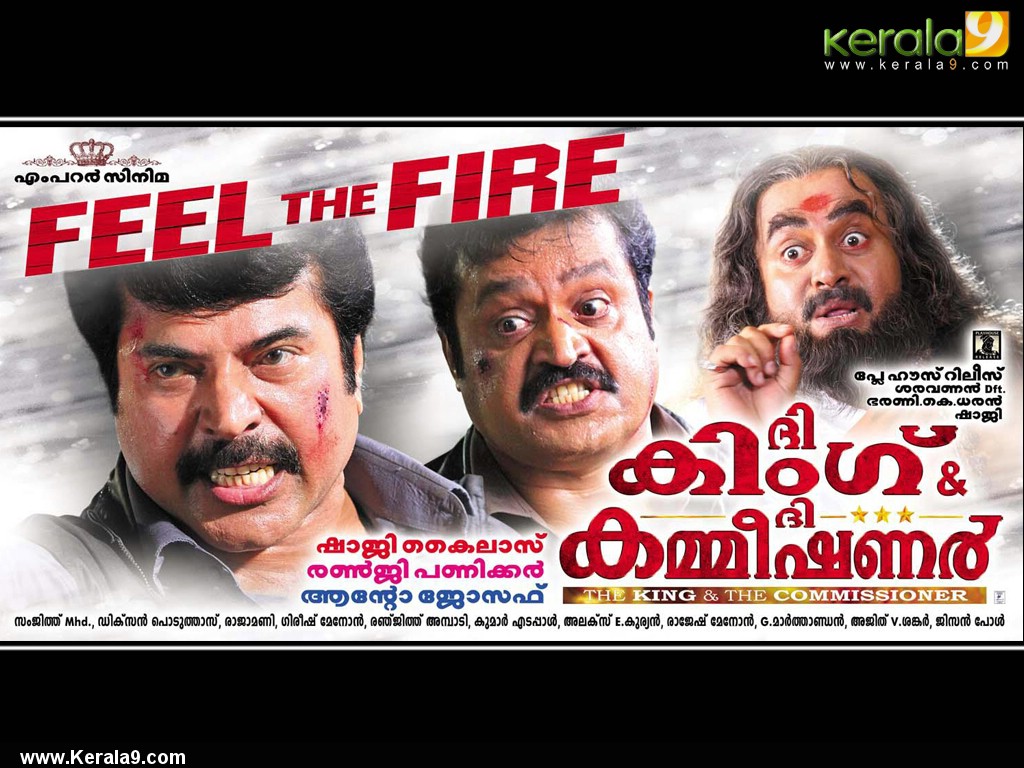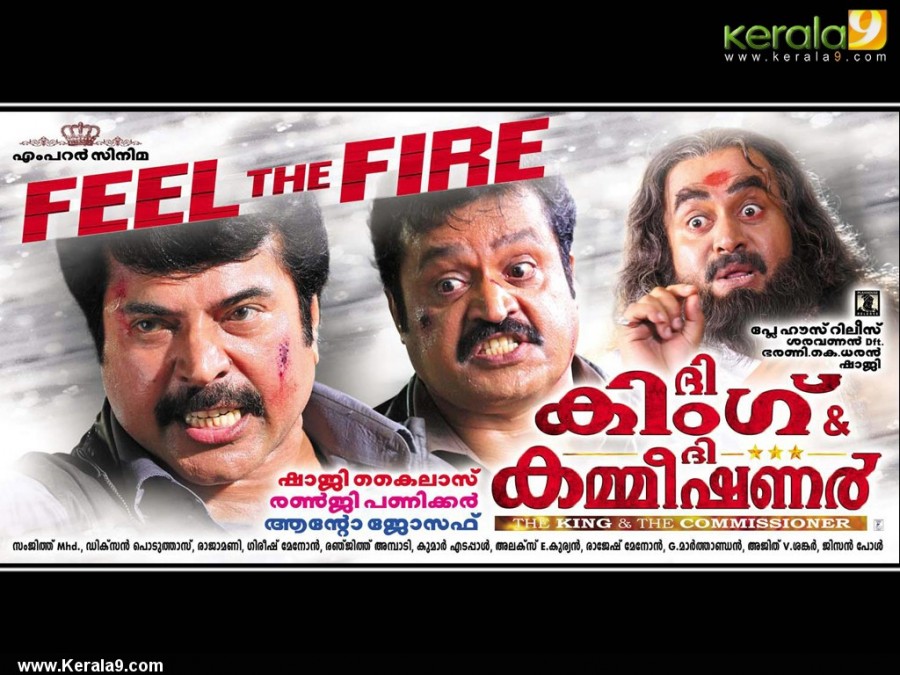 King and the Commissioner Review
Producer- Anto Joseph
Director- Shaji Kailas
Cast- Mammootty, Suresh Gopi, Saikumar, Devan, Jayan, Samvritha Sunil, Janardhanan

Music- Rajamani
Review By : Unni R Nair/ Kerala9.com
Well, did we need this film? Shaji Kailas needed to do this film; Renji Panicker needed to script the film; Mammootty and Suresh Gopi needed to act in the film. But the audience… did the audience need such a film, a mixed sequel to two big hits of the past. This is not the first time we are having such a sequel in Malayalam. I V Sasi had earlier made 'Balram vs. Tharadas' and had made a real mess out of it. Shaji Kailas somehow managed to make decent stuff out of 'King and the Commissioner', but the big question is "Did we need it?"
Joseph Alex Thevallyparambil (Mammootty), the outspoken, dare-all bureaucrat has now moved to Delhi and is a high-profile guy there, the favourite of Home Minister GK. He is chosen to investigate the killing of high-profile research scientist Dr. Sudarshanan (Nedumudi Venu), who was part of the National Security and Intelligence machinery. The Prime Minister Paramasiva Rao (Mohan Agashe) takes special interest and gives Joseph Alex free reign as regards the investigation. He has the powers and prerogatives without bounds and starts the investigation. And just as he begins doing his job, he has to face oppositions from senior Police Officer Shankar Ramadas (Devan), who had always been against him. Joseph Alex goes on undaunted and soon comes in Bharath Chandran (Suresh Gopi), the firebrand no-nonsense cop who'd stoop to no compromises. Bharath is to assist Joseph Alex and together the duo set out to investigate the murder and bring to book powerful, high-profile baddies including a Pakistan terrorist, a very ambitious National Security Advisor Raman Madhavan (Jayan) who wants to be the Prime Minister and a Godman Chandramouleeswara Maharaj alias Chandan Baba (Saikumar).
I won't say the film is bad. It definitely is not a bad one if you are sure of what you expect from it. You've seen 'The King', you've seen 'Commissioner' and 'Bharath Chandran IPS' and you know what to expect out of 'King and the Commissioner'. It has all that you'd expect out of it, provided your expectations are realistic. But at the same time, aren't you bored and exhausted by the time you come out of the theatres? Don't you feel like having wasted your time and money? To an extent, yes. "I could have seen the prequels once again rather than come and see this"- is what you may feel. You even ask yourself why these two guys- Alex Joseph and Bharath Chandran haven't changed in the course of years. You ask yourselves why Shaji Kailas and Renji Panicker didn't think about taking the two firebrand characters and doing something new, plot-wise, treatment-wise. Why did they have to choose the very same formula and the very same kind of characters once again? Corrupt politicians, idealistic politicians, Godmen, corrupt cops, outright cops, a minister or chief minister or Prime Minister who supports the hero(s) and later, at a stage, decides not to go on supporting, a minister's daughter who comes in and then vanishes somewhere in the middle of it all- you seem to have seen it all before and you're here to see it all again. That's what 'King and the Commissioner' is. But otherwise, the film is not bad. Anyway, don't you think, it could have been much shorter? But, you got to do justice to the prequels and to the two lead actors and bring in so many things; then how can you keep it short. It's bound to go on for over three hours.
So, giving a verdict is not easy, but 'King and the Commissioner' is not that good and not that bad and may even leave you exhausted as you find nothing new, nothing different and nothing exciting.
Performances
The lead players Mammootty and Suresh Gopi do full justice to their roles, though you think they (especially Mammootty) could have changed mannerisms (well, that depends more on the director and the writer) and could have portrayed the characters even better. Devan is his usual self. Saikumar is not bad, but don't you dare compare him to the Godman that Narendra Prasad had played in the Shaji Kailas- Renji Panicker-Suresh Gopi movie 'Ekalavyan'. You'd feel this Godman is just a pale copy of that. Jayan is good. The sequences where he renders dialogues in Hindi are far from impressive. Samvritha has nothing to do. Mohan Agashe too has nothing much to do, performance-wise. But all the actors and characters are props to the entire show and hence justifiable.
Technical aspects
All the technicians have done their jobs reasonably well and there is no single person who deserves special mention. It's good team-work.
Music
Music is in tune with the plot and the theme and you don't get to notice anything outstanding about it. But it's good.
Script
Script is where the flaw, if any, has happened. Renji Panicker could have changed the way he treated the whole thing, in accordance with changing times. Slick, short and fast-paced films are in trend now and I am not sure whether the audience today would like seeing films of the genre that 'The King', 'Commissioner' etc represent, though they still like seeing these originals. He could have made sure the lead characters Alex Joseph and Bharath Chandran changed with the times; he could have made sure that there was freshness as regards the supporting characters and the plot; he could have avoided the Godman thing and gone for something better; he could have done away with the Hindi dialogues or could have done it in a better manner. I am a fan of Renji for his 'Ekalavyan', 'Commissioner' and 'Bharath Chandran IPS' and of course films like 'Pathram' and 'Lelam' too. I won't say his script is bad, but I feel he could and should have done better with this one.
Direction
Shaji Kailas has done a good job as the director, but just as I said about the script and Renji Panicker, I feel he could have done better, not about directing what was at hand, but about coordinating better with the writer and ensuring that the treatment was fresh and better. This seems like a good chance gone waste, to an extent at least.
Verdict: Could have been better.
Rating: 2/5