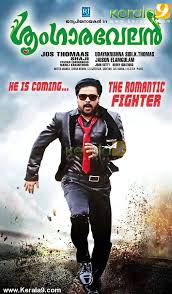 Sringaravelan Malayalam Movie Review
Producer– Jaison Elamgulam
Director– Jos Thomaas
Cast- Dileep, Vedhika, Lal, Kalabhavan Shajon, Nedumudi Venu, Baburaaj, Joy Mathew etc.
Music– Berny Ignatious
Background score– Rajamani
Screenplay: Sibi K Thomas & Udayakrishna.
Review By : Unni R Nair (Kerala9.com )
'Sringaravelan', in which Dileep teams up once again with Jos Thomaas, is a big disappointment.
Scripted by Sibi K Thomas and Udayakrishna, 'Sringaravelan' offers nothing new. Well, that's not what makes it disappointing. We'd have appreciated even if it's old wine in new bottle, but this one is just stale and insipid. You won't relish it in any way…
The story, as mentioned earlier, is not at all new. Kannan is the happy-go-lucky son of Ayyappan Achari (Babu Namboothiri), a hard-working weaver. Kannan wants to make easy buck and hence tries to persuade his father to give him money to invest in real estate business, wherein he wants to play it foul to make big money. But this does not work out. In the meantime Kannan's father asks him to deliver a saree that he had woven at a Kovilakam. Kannan, who has Vasu (Kalabhavan Shajon) as a constant companion and who has now got a new companion in Yesudas a.k.a Yesu (Lal), a crook, sets out to deliver the saree. Yesu waits for him at Thrissur so that Kannan can come back and try to get married to a very rich lady, by dint of which he could get rich himself. But things go out of hand and Kannan finds himself drawn to Radhu (Vedhika), the young heiress of the Kovilakam. Things take a new turn when Kannan realizes as to who Radhu's father D Gopi Prasad (Joy Mathew), known to all as DGP, really is…from here develops the plot…
Well it's not that things defy logic in 'Sringaravelan'; you don't always look for logic in an entertainer. With 'Sringaravelan', the issue is that it's all shoddily written and presented. The humour is so crass it doesn't make you laugh even once, the story has nothing new to offer and it just goes on and on. By the time it ends, almost 3 hours after it starts, you are confused as to what you've been watching.
Yes, 'Sringaravelan' is a big disappointment in the name of comedy…
Performance 
Dileep is his usual self and offers nothing new. Vedhika comes sans expressions and you are not at all impressed with her performance. Lal and Shajon are totally unimpressive, courtesy the poor script. You just wonder why Baburaaj was brought in, in a totally senseless kind of role. Joy Mathew too is unimpressive…
Technical aspects
Nothing much to say about the technical aspects.
Music
Neither the songs nor the background score makes an impression on your minds…
Script
Had the script been good, this story in itself, though it doesn't have anything new to offer, could have made for a good entertainer. As of now, no marks for the script…
Direction
Sorry Mr. Jos Thomaas, you can do nothing with such a shoddy script at hand. Better luck next time…
Verdict- Nothing new; totally unimpressive…
Rating: 2/5